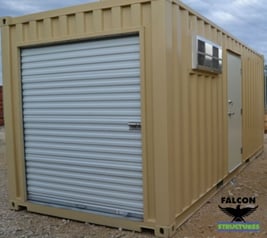 Since the early 2000s, Falcon Structures has modified thousands of shipping containers for business, industrial, military, personal, and other applications. As the container industry evolved, we believed our approach to providing container solutions should evolve too.
That's why you'll find more pre-engineered shipping container solutions in our line of standard products today. We still work on a wide range of custom shipping container projects, but most Falcon customers prefer a straightforward, streamlined solution.
So, how did Falcon get to this point?
What we found was we were replicating the same types of projects over and over again. In fact, 95 percent of the customers who come to us today are looking for the same tried and true solutions we've been refining for years.
Over those years, we completed multiple iterations of popular container modifications based on customer feedback. This insight allowed us to develop the quality processes and procedures Falcon has in place today – and an extensive line of standard products.
Is modifying a shipping container really that difficult?
If you're just learning about modified container structures, you may wonder: How hard can it be to modify a shipping container? How difficult is it to install a door and a couple of windows in a container?
Actually, it's not as easy as it looks – if you want to do it right. It takes a lot of engineering time and expertise to manufacture a quality container product. Through the years, we've also homed in on the best components and fixtures to produce the optimum container environment.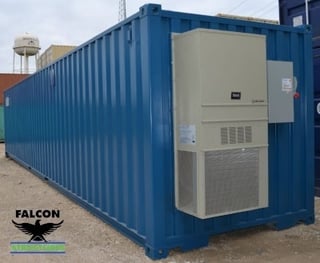 Whether that means installing …
Windows
Doors
Insulation
Workstations
Lockers
Ventilation
Heating
Air conditioning
Electrical
Plumbing
Falcon has these processes down to a science. Drawings and detailed procedures have been created for each quality process. So, if you purchase a climate controlled storage container today and again six months from now, the two will have the same level of quality, look, and feel.
Efficient processes save time and reduce customer costs
We really took the guesswork out of choosing a container structure for most storage, industrial, workspace, and living space applications. By listening to client feedback and fine-tuning how we modify containers, we developed a process that is quick and efficient for customers.
Now it's fast and easy to place an order, take delivery, and implement safe and secure modified shipping containers in the field.
Our new and improved website simplifies product selection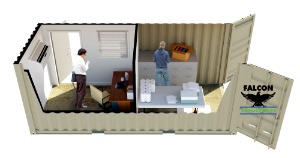 Both our new website and product catalog feature photos and top-view renderings of every standard container product we offer. These tools make it easy to see and choose a container that best fits our customer's needs.
Check out these handy features, tools, and resources on our website to get rolling:
These are just a handful of the resources you'll find on our website. We'd also be happy to answer any questions you have about pre-engineered or custom shipping containers by phone. To speak with one of our friendly Falcon representatives, give us a call at 877-704-0177 today.