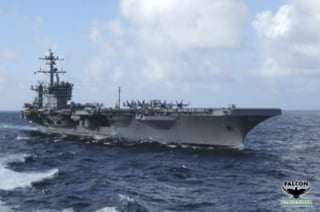 On Sunday, July 17, Falcon Structure's CEO Stephen Shang embarked on a 24-hour visit aboard the Naval aircraft carrier U.S.S. Carl Vinson. Stephen was invited by the Admiral of the Fleet of the U.S. Navy to participate in the Navy's Distinguished Visitor Program. Stephen shares some initial insights and experience from his visit below.
Following an awe-inspiring tour and visit with members of the United States Navy aboard the
U.S.S. Carl Vinson, I wanted to share a few highlights with you. At many points throughout this experience, I couldn't help but relate what I was learning to how we operate our modified shipping container business at Falcon. I'll expand upon those thoughts next week, but first, I have to tell you about the amazing journey I took.
The Navy sponsors the Distinguished Visitor Program to raise awareness about the Navy's mission and shine a light on the tremendous efforts of the sailors who serve our country and keep us safe. They invite business leaders – and often celebrities – who they hope will spread their message, and I'm thankful my position at Falcon enabled me to take part.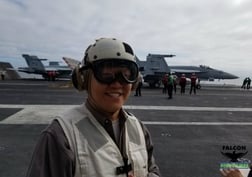 I'm honored they invited me to participate. All of the sailors and officers we met were true examples of great Americans, dedicated to serving their country. To say that I was impressed is an understatement - they were beyond impressive. Everyone I met was dedicated to the mission, and knew exactly how their job fit into the big picture.
On this particular visit, the Navy invited 13 civic leaders to take part in the program. Participants included several members of the Young President's Organization (YPO) – of which I am a member – a couple of people from the Army Corps. of Engineers, a private school principal from San Diego, and others.
A 2-Hour Briefing Prepared Us for Our Journey
Before heading to the Vinson, the Navy briefed us at the Naval Air Station on Coronado Island near San Diego. The briefing opened my eyes to the breadth and scope of Naval Aviation. More important, it helped educate me on the mission of the Navy and why Naval Aviation is important in maintaining national security.
For the record, "The mission of the Navy is to maintain, train and equip combat-ready Naval forces capable of winning wars, deterring aggression and maintaining freedom of the seas."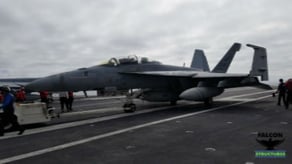 The Naval Air Forces Mission is: "To man, train, equip, and maintain a Naval Air Force that is
Forward deployed
Immediately employable
Engaged:

Combat Ops (Iraq/Syria)
Forward Presence
Always Training
Of the U.S.S. Carl Vinson, we learned she is also known as America's Favorite Carrier and is the ship that buried Osama Bin Laden at sea. Of the 4,000 officers and sailors onboard, 15 percent are women. Her flight deck spans 4.5 acres, and the kitchen staff serves up an unbelievable 17,000 meals daily.
A COD Plane Transports Us from Shore to Ship
After the 2-hour briefing, the real action began. They loaded us through the rear of a COD (Carrier Onboard Delivery) plane, which is basically a Naval transport plane. There was no First Class section and no domestic or international beers were available.
Aside from one window – which no one is allowed to sit near – the COD was dark, so sensory deprivation kicks in. The Navy wouldn't tell us where the carrier was located – that's classified – just that it was near San Diego.
A minute or two before landing, our "flight attendants" started waving their arms. The next thing you know, we're doing an arrested landing on an aircraft carrier, going from 150 mph to zero in two seconds. I was completely terrified.
A Whirlwind Tour Spans the Entire Aircraft Carrier
Over the next 24 hours, we toured the entire ship, including the hangar and maintenance area, air traffic control, the weapons center, and more. There were also several storage containers and repurposed shipping containers, and of course, I was excited to see those.
Watching daytime flight operations was amazing. To witness the planes landing 1 minute apart – boom, boom, boom – and see the amount of coordination it took to pull that off was impressive. Nighttime flight operations took it to a whole new level as these naval pilots landed with virtually no light.
And it wasn't just the pilots; there was an entire beehive of activity on the flight deck with all the different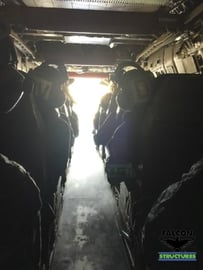 functions supporting the planes in some industrial size ballet. It was truly beautiful. The takeoff operations were staggering as well. The aircraft only have 100 yards to go from zero to flight speed, so a catapult is used to achieve lift.
And I Thought Landing on an Aircraft Carrier Was Scary
At the end of our journey, we experienced the catapult takeoff firsthand. Back in the COD, seated backward, strapped in tightly, leaning forward and hanging on for dear life, we accelerated from zero to 150 mph in 2 seconds. Those were the most intense 2 seconds of my life – but I survived.
I can't thank the Navy enough for including me in its Distinguished Visitors Program. We learned so much in those 24 hours, and it was an experience of a lifetime. In my next post, I'll share more details of the tour and expand on what I was able to bring back to the Falcon team.