Conex Container Uses for Property Owners
Sturdy, weather-resistant structures for short- and long-term needs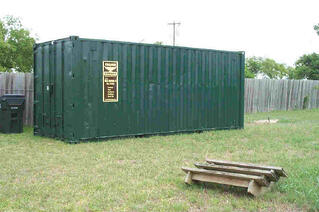 Whether you own a single family home, family farm or thousands of acres of land, modified shipping containers fulfill a variety of needs. Built of durable 16-gauge Corten steel, ISO containers were engineered to withstand extreme weather conditions, security threats and pests.
In addition, we can modify a container to suit just about any need. For example, if climate control is necessary to protect property or keep people comfortable, we have you covered. Electrical, lighting, plumbing, security, shelving, and other options are also available.

Property owners and homeowners use shipping containers for:
General Storage. Store extra furniture, electronics, paperwork, supplies, children's toys, lawn care equipment, and more.
Spare or Recreational Vehicle Storage. Keep your classic car, motorcycle, or ATV safe and secure from thieves and the elements.
Equipment or Feed Storage. Secure valuable construction or farming equipment, as well as livestock feed, at convenient sites throughout your property.
Workshop or Hobby Space. Add a freestanding workshop, craft room, or potting shed to a separate space outside of your home or garage.
Need a little more inspiration?
Check out our common shipping container products section OR download our standard container products catalog here. Better yet, give us a call at 877-704-0177 to discuss your options.