True to our motto, we want to help you think inside the box. At first glance, storage seems straight forward, but think about all the options for organization, climate control, and points of access. Here are just a few ways we've repurposed conex boxes into onsite storage containers.
All the onsite storage solutions below are:
Relocatable.
Turnkey.
Fast to deploy.
Available as 40-foot containers.
1. Partitioned Onsite Storage Container for Construction
Running climate control 24/7 adds to power bills. Businesses looking to save can opt for a half-insulated container with a partition wall. Keep sensitive documents stored in one half, and construction materials in the other.
Partition walls can divide a 20-foot container into as many as four spaces. Employers can ensure people only access tools and files related to their work by creating a separate locked access door for each section.
2. Storage with Workshop Space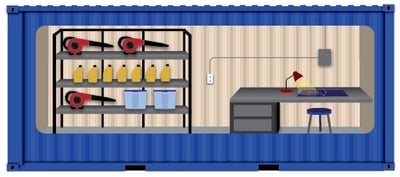 A work space for small repairs and paperwork adds utility to onsite storage containers. Deploy rental equipment stored in the container and take notes on where it goes at the built-in workshop. Businesses can open the cargo doors to turn their container into a space for inventory and business.
3. A Mobile Welding Shop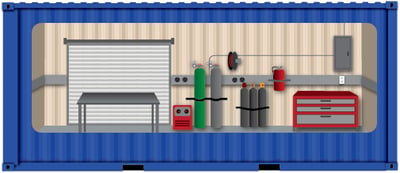 Tools and equipment break. It's a fact of industrial work. A mobile weld shop can be placed on the jobsite for fast repairs and small jobs. The sheltered space also allows welders to work when the weather or wind isn't cooperating. Containers can come with 220 V outlets and connect to a generator. Adding overhead doors also makes it easy to open the shop for ventilation.
4. Climate Controlled Dry Goods Storeroom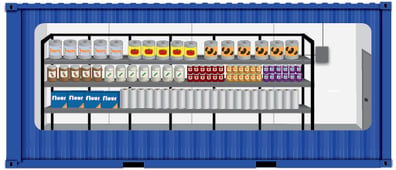 Even dry goods like canned foods and grains should be stored between 50 and 70 degrees to maximize shelf life. A climate-controlled container with a personnel door is a fast and mobile way to expand restaurant storage.
5. Onsite Records Storage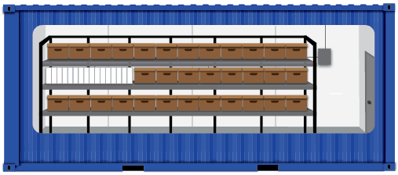 What do business and government have in common? Mountains of paperwork that need to be securely stored - just in case. Instead of paying for a storage unit across town, organizations can store sensitive records onsite in a climate-controlled shipping container. Proper sealing and humidity controls can protect paperwork from insects and mold.
6. The Mobile Garage for Sensitive Machinery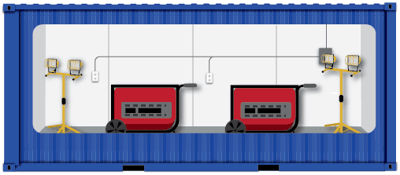 Humidity is the menace of machinery, especially if you're working in tropical climates like Florida. Generators, lights, and sensitive electronic tools will stay in optimal condition longer when stored in a climate-controlled garage space. We've even seen a pro-am racing team store their Porsche 911 in a mobile container garage.
7. Athletic Storage for Schools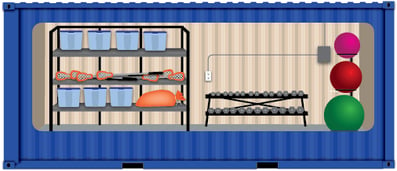 When schools expand their athletics programs, their new gear will need protection. However, space is often limited in existing school buildings. Placing a storage container directly onsite at the soccer field or beside the gymnasium is a fast way expand athletic program capacity. The secure cargo doors will protect training equipment from vandalism and rain.
If you're interested in storage, check out our field-tested product line. You may be interested in: