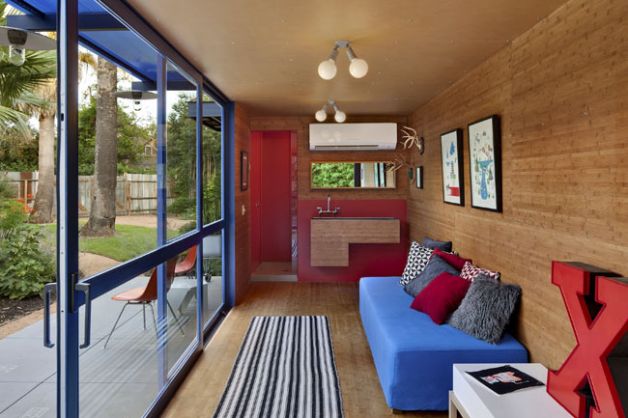 Having a second home to getaway and just relax just isn't that common in todays economy. Take a look at what one central Texas woman http://bit.ly/idGjwj did to a shipping container to take advantage of her acerage plus give her some additional living space for guests. I've never seen shipping container homes look so cute and retro. With this design she's made it possible for everyone to see themselves spending weekends on their remote property. Here are just some of the neat details she put in....
Color is key. Bright bold colors work so well in this small space
Furniture created for small compact spaces is a must because her couch converts into a king size bed.
Her walls and floors have been redone so you no longer feel like you're in a shipping container.
The sliding screens and outdoor feel is my personal favorite. She put in awnings for nice afternoon shade so enjoying the outdoors is a little more tolerable in Texas.
Living in the Austin, San Antonio or central Texas area we have such vast open spaces. I could really see myself spending weekends on my property relaxing in this exact 40' shipping container.
I'd love to hear what you think...nboykin@falconcontainers.com