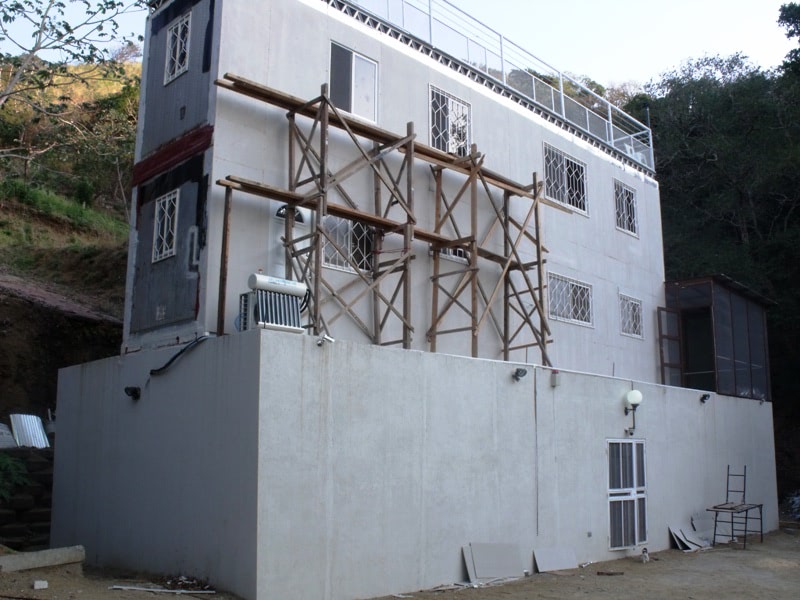 It's exciting to see what can be done with 40' shipping containers. Who knew a shipping container could be modified in this way? This family has put so much thought into their design that once you think "inside the box" your imagination can take you anywhere. It's been completely modified to fit their creature comforts. Take a look at their blog http://leegreenberg.wordpress.com/ and to see all their photos. They've documented their progress from the beginning stages of construction to adding the hot tub on the roof with it's breathtaking views. This particular project is three stories enabling them to have a garage door on the bottom level and a beautiful rooftop terrace. Take a look at some of the modifications they've made.
Rooftop terrace with hot tub- After a long day in the central TX sun couldn't you just imagine sitting on the roof enjoying a refreshing drink and relaxing in your hot tub.
Screened in porches are ideal to keep all pests and critters out but keep the breeze flowing nicely.
The floor was upgraded to hard woods which makes for a nice visual appeal and makes it feel more like a home.
Coud you see yourself living in this shipping container home here in Austin or San Antonio Texas? Let me know what you think nboykin@falconcontainers.com