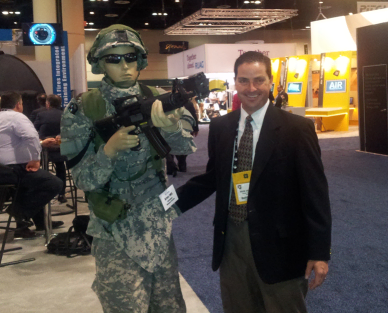 We had an exciting week last week attending the Interservice/Industry Training, Simulation and Education Conference (I/ITSEC) which was held December 3-6 in Orlando, Florida.
Created by the Navy in 1966 and later expanding in 1979 to the other armed services, this conference promotes the cooperation among the Armed Services, Industry, Academia and various Government agencies who together are in pursuit of improved training and education programs, identification of common training issues and development of multiservice programs.
The conference was packed this past week with over 20,000 registrants representing over 50 countries. It was well represented by over 500 exhibiting companies from around the world.
We attended the conference without exhibiting and were fortunate to connect with clients and industry colleagues. Here at Falcon we have been developing structures for military training since our inception in 2003. It is exciting to see the new developments and enhancements that have taken place in this arena over the last 14 years. Our own projects have become more enhanced through our own product development and through partners that provide innovative simulation features helping to create a realistic environment.
The conference's theme was "The Power of Innovation, Enabling the Global Force", which recognizes the importance that innovation will play in sustaining current readiness while enabling future capabilities. It is this type of forward thinking that resonated from the booths, demos, companies and individuals that we experienced and met during our attendance at the conference.
We look forward to the year ahead as we continue to complete our military training projects that are underway and are excited at the prospect of being involved in additional projects in the future for branches of the armed forces. If you would like to view some of our work in the military training structure projects or you would like to contact us directly, call us at 877-704-0177 or email sales@falconstructures.com.