Every once in a while, a customer comes to us with a business problem we've never encountered, and we have to come up with a brand-new solution. Here are seven customer-inspired modifications that we now offer to everyone.
1. Slider Windows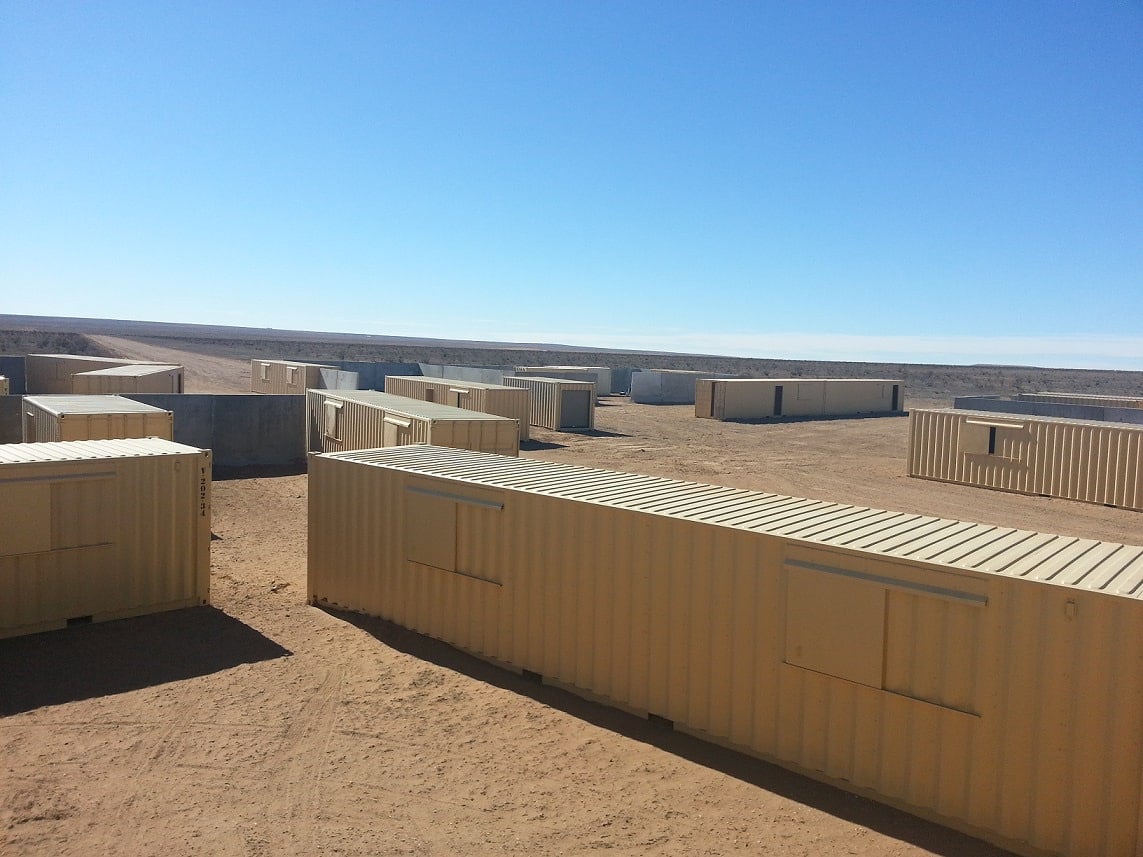 One of Falcon's first big projects was creating a MOUT village for the U.S. Airforce. Imagine an enormous shipping container-based movie-like set made to train troops for deployment. The containers were stacked and joined together to create a realistic environment representing homes, marketplaces, doctors' offices and more.
The military requested black-out windows that could be closed to create dark interiors to enhance the element of surprise during training exercises. Falcon created rolling window covers on a track, durable enough for action-intense use.
2. Pivoting Walls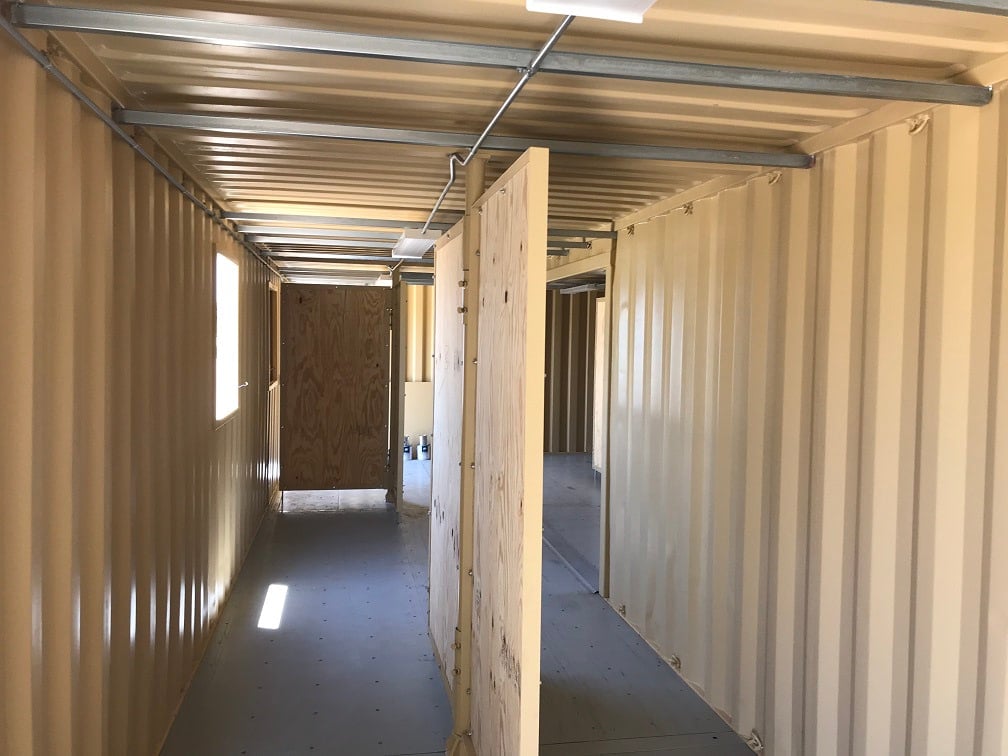 The pivoting walls were created for another training facility, this time for a sheriff's department training first responders. The instructors wanted to keep law enforcement officers and fire fighters in training on their toes by regularly changing the floor plans of a mock apartment complex.
We developed pivoting interior walls that hinged on an axis. The first responders encounter a new layout every time they train.
3. Roll-up Door Clear Span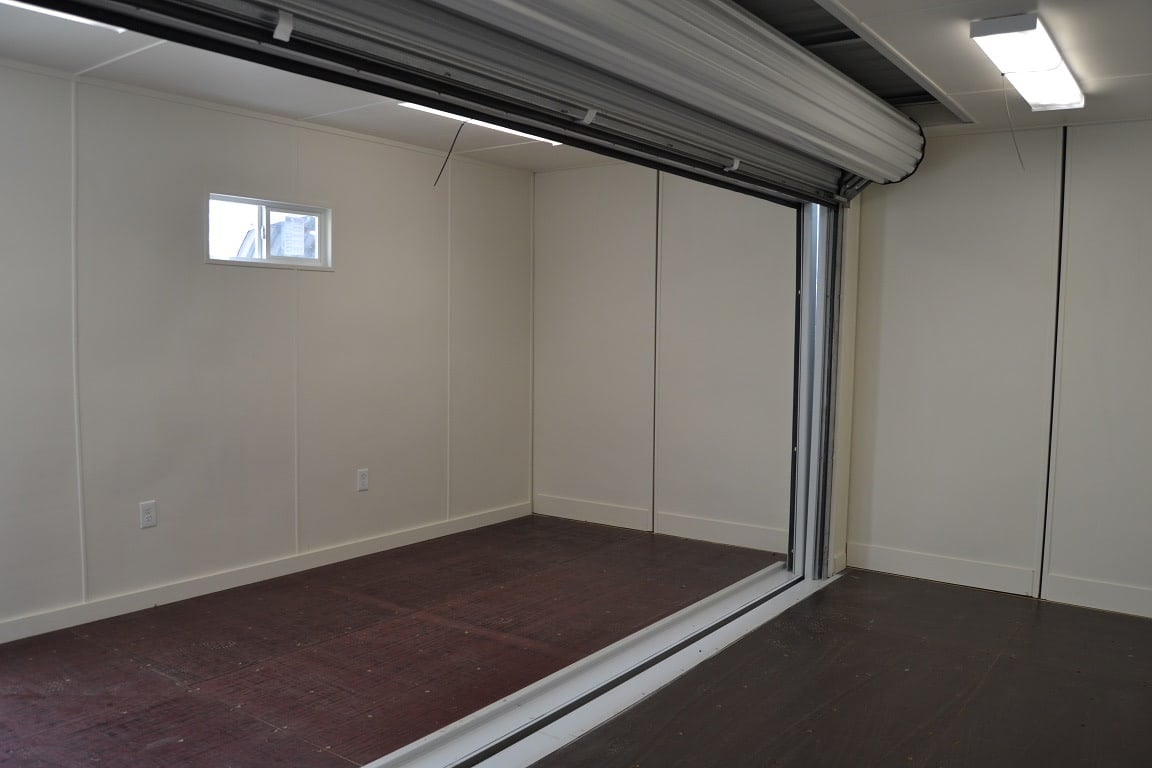 A supplier for oil rig man camps wanted to create a mobile and modular gym using two shipping containers joined together. The challenge? Unlike most double-wide structures, the containers would be regularly picked up and relocated. They would have to be very easy to set up and quick to pull apart again.
Adding extra large roll up doors on the long side of each container, and then pushing them together proved to be a convenient solution. When traveling, the roll up doors keep the equipment safe and contained. Onsite, the doors roll up and create an open central area.
4. Container Towers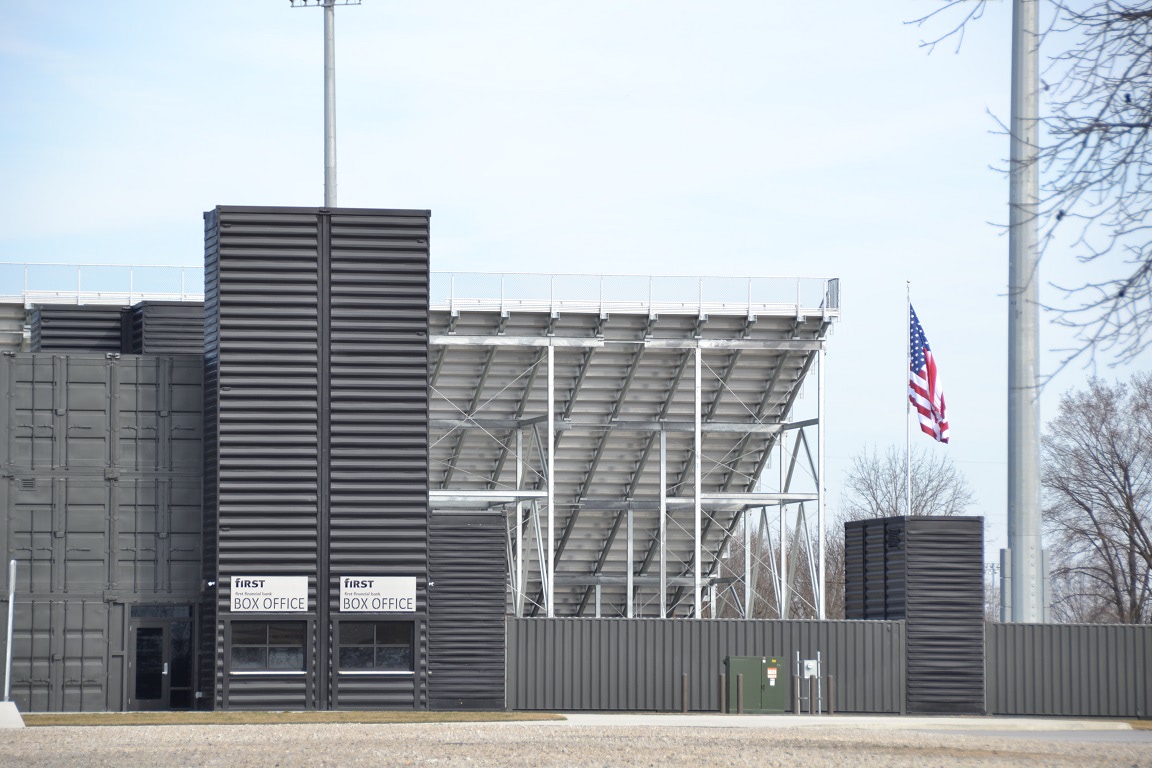 A community wanted to make a statement with their sports stadium by building a shipping container-based fortress. Inspired by medieval castles, the Village of Obetz wanted their stadium to have looming towers. Falcon Structures found a way to tip 40-foot containers upright to realize their vision.
5. Folding Ramp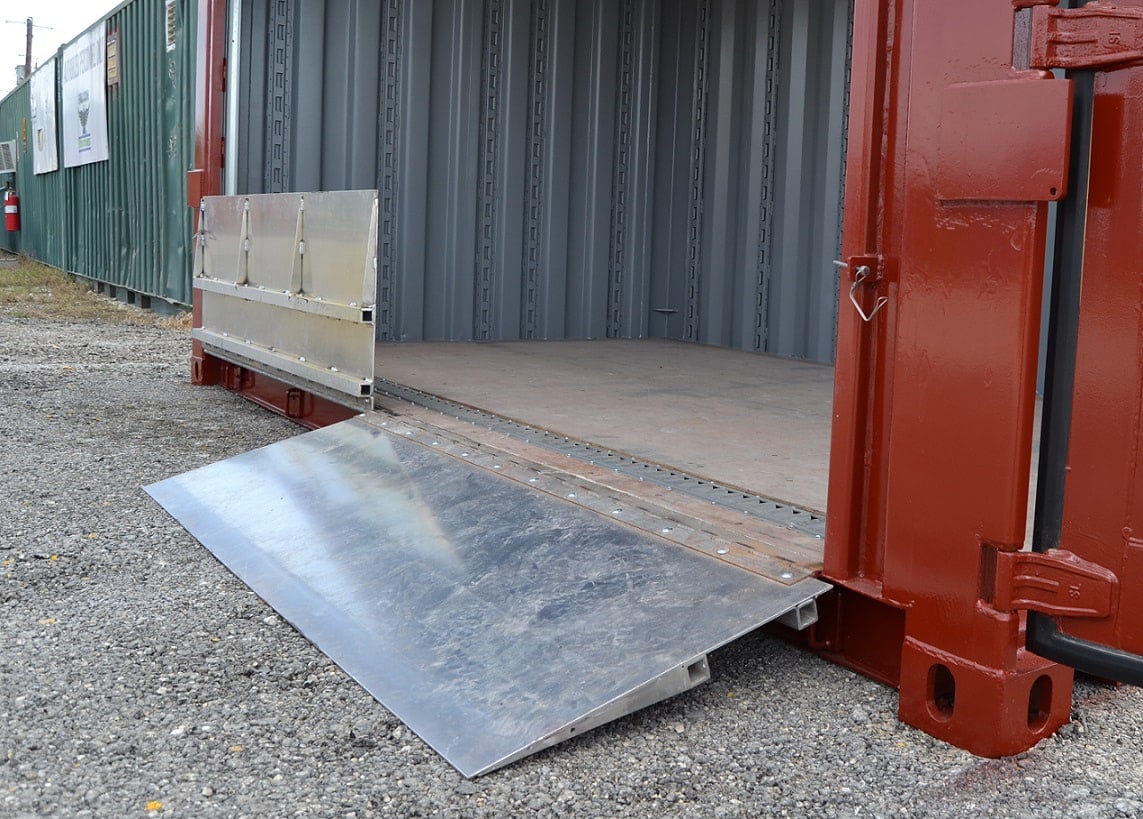 A customer wanted to use a shipping container to make loading cargo from a truck into their warehouse dock easier. We created a folding ramp that could rest on the warehouse dock, and then be folded back up for transport.
6. Draining Floors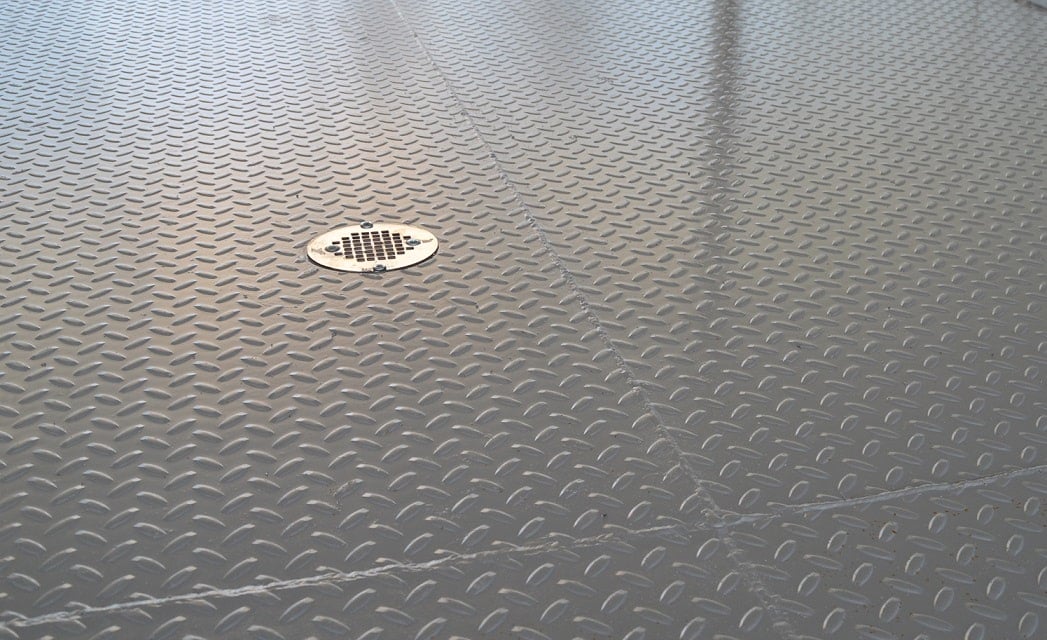 It makes sense: water treatment equipment sometimes gets wet. However, leaks containing caustic chemicals are a serious hazard. An original equipment manufacturer for water treatment equipment requested a shelter that could catch and contain leaks. We raised the tread steel floors to make room for a liquid containment tank. Any leaks would drain from the floor to the tank system.
7. Weather Tight Utility Ports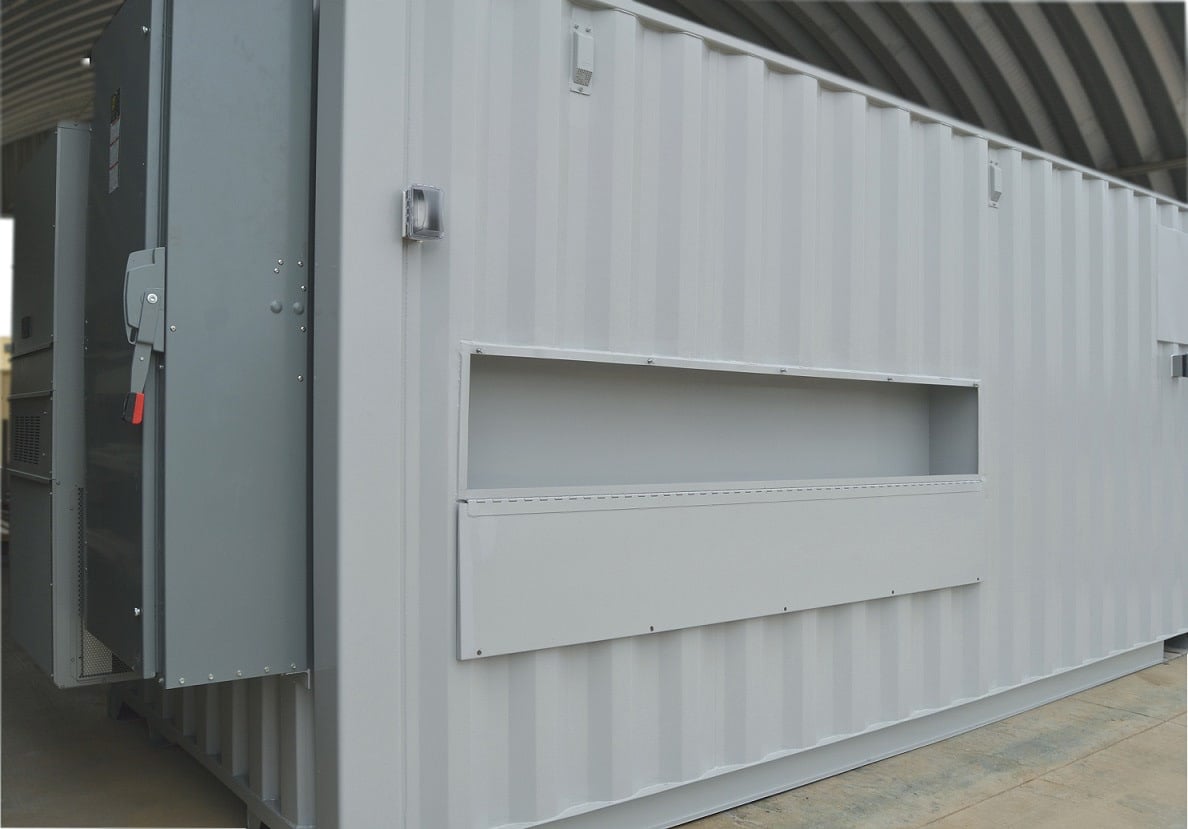 Energy Transfer required snow- and rain-tight enclosures for remote terminal units (RTUs) along their pipelines. To properly connect the equipment to power and other conduits, the enclosures needed utility ports that would be just the right size for cabling. This is easier said than done because each site had small variations. Instead of trying to make a one-size-fits-all opening, we created a utility port system where a container wall cut-out was filled with a thinner sheet of metal. Technicians can then drill a perfectly sized hole through the thinner metal without compromising the weather tightness of the structure.
Thinking about a custom shipping container structure for your project? Kick off your design process with these supplemental resources: