When you think about restrooms on an industrial jobsite or oil field, the word unsanitary probably comes to mind. Traditional mobile restrooms and porta-potties come up short in cleanliness, not to mention, comfort and accessibility. Fortunately, mobile oilfield restroom buildings or "comfort stations" constructed from modified, steel, Conex, shipping containers overcome these downsides. They can also work wonders for employee morale and improve worksite efficiencies.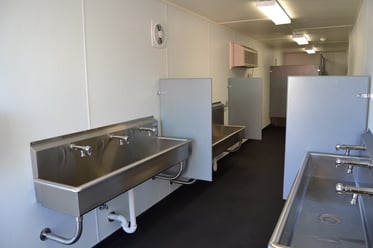 Innovative Design Reduces Cleaning Time, Accommodates User Demand
When we designed our oilfield restroom buildings, one key goal was to create an easy-to-clean environment. Simply put, a clean restroom is much more pleasant than the alternative and something employees appreciate.
Reduced cleaning time also translates to employer savings due to lower cleaning related expenses for cleaning staff and/or sanitation services.
To ease the cleaning process, MFR interiors include durable features that resist soiling and can be quickly and easily hosed or mopped down. Features include:
Waterproof, slip-resistant, Rhino Linings® flooring with 2" drains.
Stainless steel toilets, urinals and sinks.
¾", easy to clean, FRP-covered, plywood walls.
State-of-the-art Dyson AirbladeTM hand dryers to reduce paper waste and enhance hygiene.
The floor plan was designed with a nod to privacy – with two private stalls per unit – and a urinal helps accommodate high-traffic periods. As a bonus, motion-activated vent fans, indoor LED lighting, and exterior, sunlight-activated, photocell lighting reduce energy costs.
HVAC Systems Provide Comfort and a Break from the Elements
Traditional comfort stations rarely come equipped with heating or air conditioning. All Falcon MFRs include fully operational HVAC systems. Now, visiting a mobile restroom offers one more perk: A break from the heat and cold outside. This feature treats employees to a few more minutes of comfort during the workday.
When workers are more comfortable, content, and refreshed, increased productivity usually follows.
Easy-to-Relocate Units Improve Access and Productivity
Mobile restrooms created from repurposed, steel shipping containers can easily be relocated with a forklift. No crane is required. Employee restrooms move when employees do, which means consistent, convenient access to bathroom facilities.
Reduced travel time and easy access to the facilities, translates to less downtime for bathroom breaks. This can improve employee productivity and enhance an organization's bottom line.
Security Features Offer Peace of Mind
All exterior doors on container structures can be equipped with either a secure card swipe or keypad. This workplace security feature allows employers to monitor who enters and leaves the comfort station and when. This benefits employers, because they can better isolate who may be involved in any criminal activities or threats.
In addition, both men's-only and combination men's-women's units are available. The combination units are separated by a floor-to-ceiling wall and include separate entrances for added security. It also ensures only authorized personnel can enter.
Container-based Restroom Buildings: A Win-Win Solution for Employers and Employees
Providing a more desirable workplace can give employers an edge both in recruiting and retaining quality employees. Falcon MFRs help support this goal, while improving productivity and keeping operational costs in check. If you'd like to learn more about integrating MFRs into your oil field, construction or other industrial jobsite, give us a call at 877-704-0177.
Contact us to learn more or to request a quote on a modified container today.