When it comes to permitting structures that use shipping containers, there's more than one option and a lot of acronyms. To get oriented, let's go over the who, what, and why of some terminology you'll run into as you try to permit your container building. We recommend reading these definitions in the order written because they build on each other.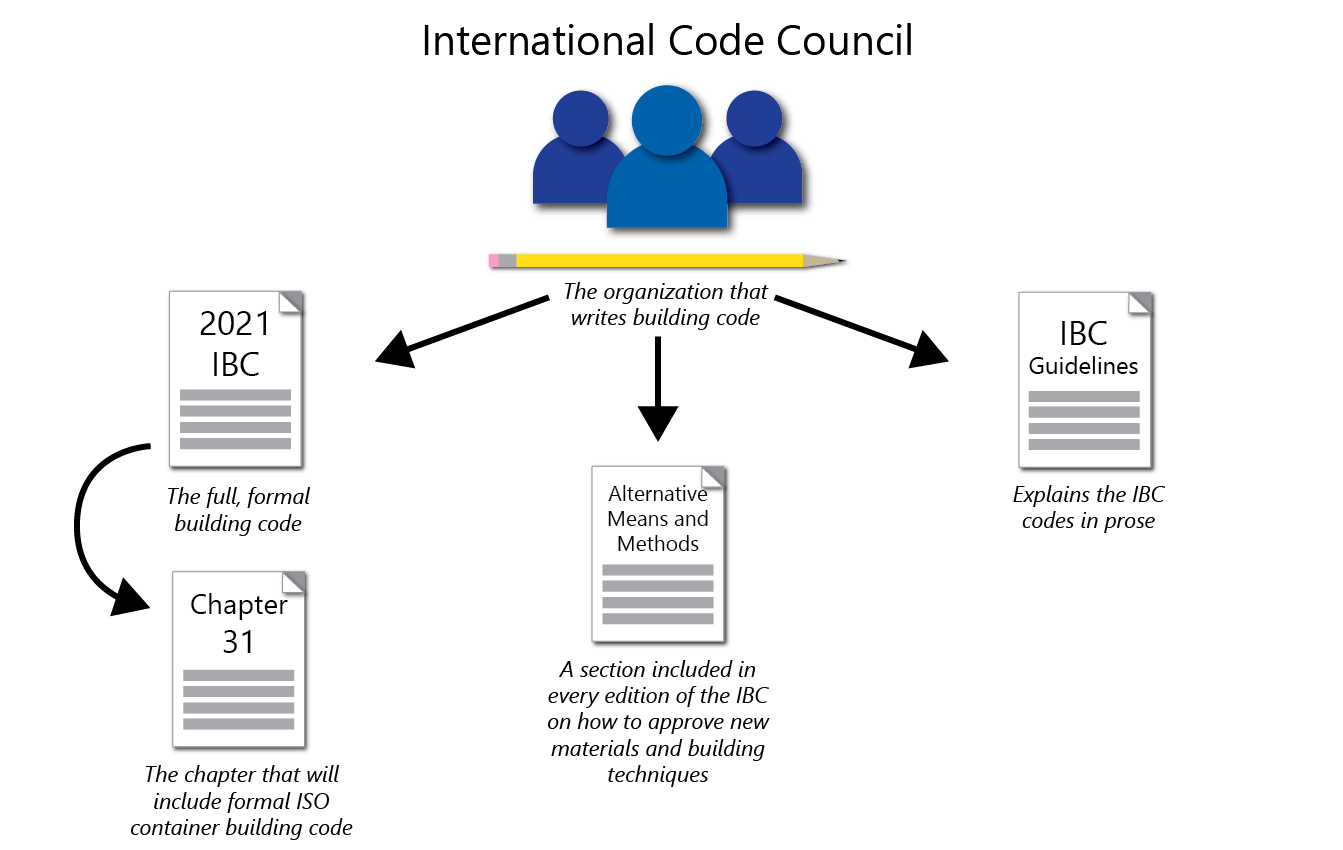 ICC = International Code Council, the people writing the rules
The ICC is a non-governmental association of building safety experts. Based on the knowledge and experience of its members, the ICC publishes suggested guidelines and policies for safe construction and building in issues of the International Building Code (IBC, more on that later).
IBC = International Building Code, the document containing the codes
The IBC is all the ICC's suggested codes and guidelines compiled into one comprehensive document. The ICC constantly edits and adds to the IBC as new building methods, materials, and research arises. Updates are released every three years in new editions of the IBC.
How Governments Use the IBC
Governments around the world choose to adopt the measures outlined in the IBC because the ICC has a long track-record of creating safe and sensible practices. In the United States, local governments usually vote to accept a new edition of the IBC every few years. Counties and other authorities having jurisdiction in the United States will not necessarily be using the latest edition of the IBC; in fact, most will be a few years behind.
Alternative Means and Methods, a process for approving unfamiliar building materials and methods
Technology often moves faster than policy. Alternative Means and Methods is a set of guidelines within the IBC for approving building methods and materials that have not yet been covered in the IBC.
While a viable route for approval, alternative means and methods can make coding officials hesitant because it requires them to undertake a considerable amount of research and accept some risk. Until recently, shipping containers had to be approved for use as building materials through alternative means and methods, making the permitting process cumbersome for both code officials and developers.
Currently, container structures are almost exclusively approved through the alternative means and methods route.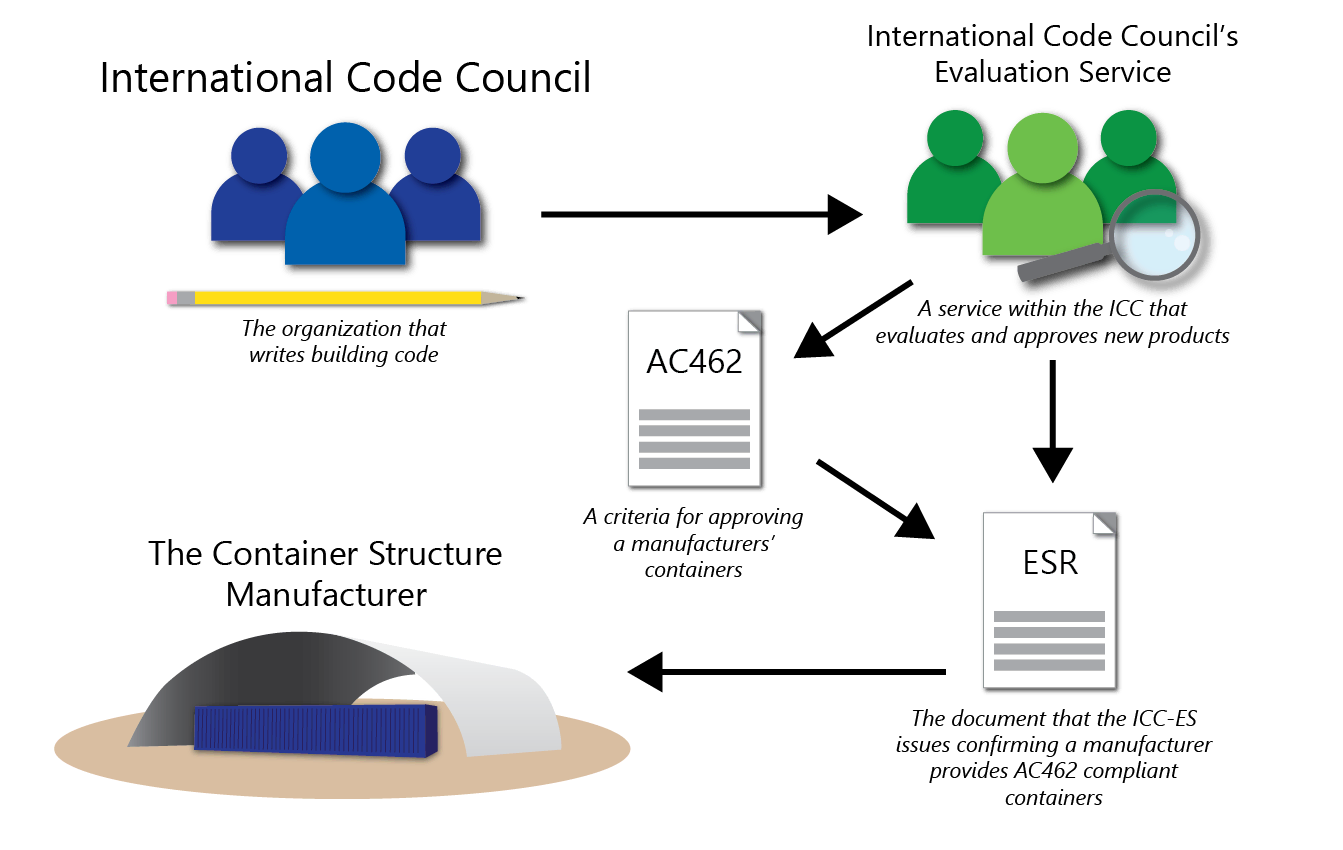 ICC-ES = The ICC's Evaluation Service, a group of people in the ICC who can evaluate and approve new products
The ICC-ES can inspect a manufacturer's building materials and manufacturing process to confirm that their product is safe for use.
ICC-ESR = ICC Evaluation Service Report, document that confirms ICC-ES inspectors approve of a building material
After inspecting a manufacturer's facility, process, and product, the ICC-ES can issue an ICC-ESR certifying that the building material has the ICC's endorsement for consistent quality and safety.
AC462, the criteria container building manufacturers must meet to receive an ICC-ESR
The ICC believes that ISO shipping containers can be safely used as building materials, but they want manufacturers to have a process for screening the containers before modification. If a container structure manufacturer can meet the rigorous standards of AC462, the ICC-ES will issue an ICC-ESR for their container modules.
Falcon Structures and just two other container module manufacturers are AC462 compliant and hold an ICC-ESR for their containers.

Be aware that AC462 only covers the unmodified shipping container shell. Modified containers and multi-unit buildings need additional approval, but AC462 approved units streamline the first part of the approval process.
Chapter 31 in the 2021 IBC, an upcoming amendment that will formally incorporate shipping containers into the IBC
The 2021 IBC will include a straightforward criterion for approving containers as building materials and single unit structures. Ideally, an inspector will look at Chapter 31 and approve container buildings the same way they'd approve any other building or structure. In addition to guidance on screening unaltered containers as base materials, Chapter 31 will also cover basic modifications like adding windows and doors to single-container structures.
ICC Guidelines, a more plainspoken explanation of how to safely use containers as building materials
The ICC releases guidelines alongside the formal standards outlined in the IBC. These guidelines are written in a simpler prose style and unpack practical considerations for interpreting and enforcing the building code described in the IBC. When the ICC releases the 2021 IBC with container-focused additions, there will be corresponding explanations in the 2021 release of the guidelines.
Still have questions? Check out our container building code webinar or reach out to us at 877-698-1279 or sales@FalconStructures.com.