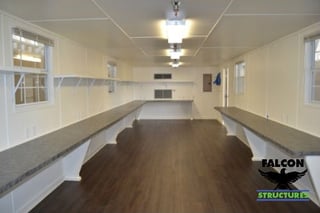 When an industry evolves, hiccups and roadblocks inevitably pop up along the way. To prepare for his recent presentation at World of Modular (WoM), Falcon Structures CEO Stephen Shang spoke with several leaders in the shipping container structures industry for insight.
One question he asked these key players was: What are the biggest challenges facing the industry today? Six key challenges came to light, and Stephen shared these with WoM attendees.
In case you missed Stephen at WoM, or need a refresher, here are the six challenges the container industry is tackling now.
Challenge 1: The misconception that container structures are cheap.
While a shipping container itself is inexpensive, it comprises about 10 percent of the total modified shipping container cost on average. Quality design, carpentry, plumbing, electrical, finishes, site work, and other modifications make up the balance.
The industry needs to change the mindset from containers being a cheap option, to people choosing to buy containers because they provide a better solution.
Challenge 2: We're still a young industry inundated with custom work.
When customers have too many options to consider and decisions to make, they are inclined to associate more risk with that solution. More customization also drives up the cost for the customer.
Through fine-tuning and standardization of products, the industry will be able to reduce risk and costs.
Deciding whether we are construction or manufacturing companies.
What we've found at Falcon Structures – and our advisory board of industry leaders echoes – is we started out as more of a construction business but found that a manufacturing model would be more efficient.
Under the construction approach, you're wearing a project manager hat, managing many different trades. With the manufacturing approach, you can optimize for flow, improve efficiencies, and reduce customer costs. Falcon made the decision to shift to a manufacturing model in 2013.
Misperception that anyone with welding experience can modify a container.
The modified shipping container business isn't as easy as it looks. Unfortunately, plenty of people think they know how to modify a container, when they don't. That faulty work could give our industry a bad reputation.
Sophisticated companies in the container space employ structural engineering experts and run software to analyze every structure. This helps ensure the containers are structurally sound and safe.
The industry needs to raise awareness that shoddy and inexperienced workmanship comes at a price.
Lack of industry standards pertaining to quality and safety.
Without safety and quality standards, each organization must develop its own. Container industry leaders agree standards are important. However, there are plenty of fly-by-night organizations that either don't care or don't know where to begin.
At Falcon, we have invested heavily in OSHA and environmental compliance. The hope amongst industry leaders is that associations like MBI (Modular Building Institute) will help us lead the charge.
Lack of consistency surrounding building codes across borders.
Existing building codes are opaque, difficult to follow, and inconsistent from state to state, and even locale to locale. It's also unclear as to what is and is not being enforced.
This issue is something leaders in our industry have been following very closely for the past two years. The ICC (International Code Council) has issued some acceptance criteria, which is a step in the right direction and a pathway to containers becoming more commonplace.
If you have questions about modified shipping containers for your mobile office, industrial, construction, military, retail, or housing application, we're here to help.Contact Us or give us a call at 877-704-0177 to speak with a Falcon representative today.