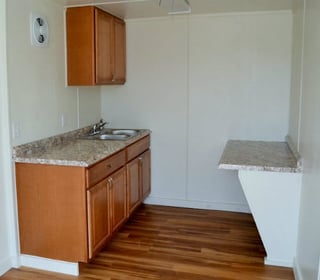 If you've been tasked with finding and executing a workforce housing solution – cost, quality, and speedy deployment are probably top of mind. Creating an environment where employees feel safe and comfortable may also be a concern.
Fortunately, Falcon's turnkey Living Containers were designed to meet ALL of these criteria. You don't need to sacrifice quality to keep costs in check, and containers can be deployed, installed, and relocated much faster than traditional modular housing solutions or permanent structures.
All it takes is a little advanced planning and preparation to ensure your employee housing initiative is successful from day one. So what step should you take next?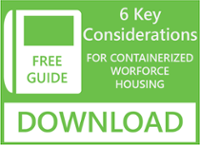 Download our handy guide:
"6 Key Considerations for Containerized Workforce Housing."
Whether you need temporary housing for work crews, soldiers, border patrol agents, disaster victims, or other needs, this helpful resource covers all the bases. You'll find insight including basic operational logistics, a comprehensive rundown of popular container modification options, and other tools to set you up for success. Highlights include insight on:
1. Which modification options to consider
While Falcon's standard Living Container products are plug-and-play, we know every organization has unique needs and goals. In this section we walk you through popular container options such as:
Container square footage.
Plumbing.
Climate control.
Electrical.
Connectivity.
Insulation and more.
2. Why employee comfort should be a priority
We show you how to create a safe, secure, and comfortable environment that feels like home. You'll also learn how employee "amenities" like clean showers and private bathrooms can have an impact on your bottom line.
3. How the heavy-duty construction of shipping containers pays off
Modified ISO shipping containers are constructed of durable, COR-TEN steel. This inherent weather-resistant trait makes containers ideal for the extreme weather conditions often found at remote job sites. We also explain how Falcon's time-tested construction methods reinforce the longevity and integrity of workforce housing programs.
4. How containers protect workers and valuables
The shipping container's sturdy construction and heavy-duty cargo doors also offer security benefits for workers and valuables. In the guide, you'll learn how to create a living environment where employees feel safe and secure.
Learn more about safety and security of shipping containers in this recent post.
5. How to expedite temporary housing deployment and installation
Need temporary employee housing in weeks not months? Find out why shipping containers provide one of the speediest solutions available for workforce housing in the modular building market.
6. How to weigh short- and long-term costs
If you're looking for long-term saving opportunities, shipping containers beat the competition again and again. In the guide, we include key cost advantages to consider when comparing modified shipping containers to other temporary housing options.
Ready to take the next step?
Download the "6 Key Considerations for Containerized Workforce Housing" guide now. Then contact us with questions. We're here to help! You can reach a friendly Falcon representative by calling 877-704-0177 or email sales@falconstructures.com.