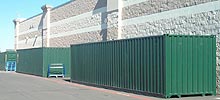 Today marks the beginning of a new business, the date of a location move, the expansion agreement between partners, the purchase of new machinery, and an increase in inventory. Across the globe, in every community and every state these events are happening today and every day.
Each event could benefit from the temporary or long term use of a portable storage container. With the flexibility of design and the addition of modifications, including windows, doors and air conditioning, portable storage containers could be the needed addition to the event happening in your business or project location.
Do you have the need for Portable Storage?
A secure portable container providing protection from the elements would allow for a flexible and movable addition to your business, job site or project.
Are you moving locations?
Provide protection for your goods during a move. A portable storage container can provide the protection for precious cargo in a community move or business re-location.
Are you in need of a storage space with additional features?
Electrical and cooling features can be added for items or use that require a climate controlled environment.
Are you in search of a solution to help with your business needs?
An expansion of inventory, need for a mobile office or storage of equipment machinery or supplies could all be handled simply with the addition of a portable storage container.
Your storage story might be happening today, next week or next month. Whatever your story or event may be the uses for portable storage containers could be the next chapter in your story.