This week we're doing an analysis of the pros and cons of metal sheds versus onsite ISO storage containers. We compare factors like cost, security, and assembly time.
A 20-foot Container Compared with a Popular 10 ft x 15 ft metal shed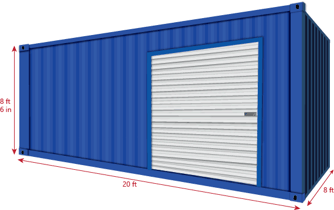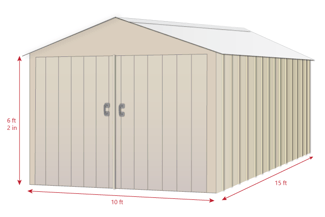 | | | |
| --- | --- | --- |
| | 20-foot ISO Container with One Roll-up Door | Metal Shed Kit |
| Footprint Area | 160 square-feet | 150 square-feet |
| Cubic Space for Storage | 1156 cubic-feet | 1021.9 cubic-feet |
| Set-up Time | <4 Hours | 18+ hours (+10 hours to pour concrete slab) |
| Entry Points | A 7'8" opening with two cargo doors and another 6' opening with an overhead roll-up doors | A 9'6" opening with twin doors |
| Security | Extremely Secure | Secure |
| Mobility | Easy to Relocate with a forklift or crane | Permanently placed unless you can disassemble and reassemble the shed |
| Time to Delivery | Estimated 6-8 weeks by Falcon | 2 weeks |
| Price | ~$4500 | ~1700 + ($1000 slab foundation) |
| Customizations | Additional features such as personnel doors and climate control available | Set as described on kit |
Conclusion: Containers are Ideal for Businesses and Sheds are Ideal for Personal Property Owners
Onsite Storage Container Pros and Cons
Pros:
Security: Containers are extremely secure. If theft has been a problem for your business, a container will probably resolve it.
Mobility: Containers can be redeployed to wherever they are most useful.
No assembly: No assembly is required. Once the container is off the truck, you're done.
No foundation required: You can skip the foundation if you have a flat, dry, and level space.
Customizable: Customizations are available.
Cons:
Up-front cost: Onsite ISO storage containers will probably cost more than a metal shed kit from a large retailer.
Lead time: Lead time to delivery will probably be approximately 4-5 weeks longer
Aesthetics: Some neighborhoods feel shipping containers are unsightly and have zoning restrictions on their placement.
Metal Shed Pros and Cons
Pros:
Up-front cost: Metal sheds will most likely cost less than an onsite ISO storage container.
Aesthetics: Metal sheds are usually more aesthetically pleasing. Your neighbors are less likely to have an issue with their appearance.
Lead time: The time to delivery will likely be shorter (around two weeks).
Cons:
Assembly time: Assembly often takes longer than the manufacturer's suggested time; confirmed by many comments on Home Depot's shed kits. If you're not technically inclined, assembly will probably take 18 labor hours.
Foundation cost and lead time: Sheds do require a slab foundation, a cost not built into the upfront price. Flooring is also not included. If you would like to install vinyl on top of the concrete, add another $280 to the price.
How do the costs of a shed compare to a container?
The sticker price of a metal shed is lower. If personal property owners are willing to give a few weekends to pouring a slab and assembling the project, a metal shed kit will probably be the more economical purchase.
However, businesses may have different priorities for their employee's time. Between pouring a foundation and assembling the shed, paying for the convenience of a complete, foundation-free container may be worthwhile. If a contractor pours the foundation for the shed, you also have to add another $1000 to budgeted cost.
Still $4500 is considerably more than $2700. Businesses usually gain the remaining value in mobility and security when stolen or damaged equipment is a serious liability. Placing high-value assets inside a container offers business owners peace of mind.
Businesses are also more likely to benefit from the container's mobility. Instead of rebuilding a shed at the more convenient location, businesses can pick up and move their onsite storage container. Customizations such as personnel doors, lighting, or climate control for example, are also more readily available. While paying for these added benefits may not make sense for someone seeking a backyard shed, they offer long-term benefits to businesses.
Have questions? Contact us at 877-704-0177 or sales@falconstructures.com.