What if apartment complexes could go up in a few months instead of years? Rapid construction for multi-family housing is already becoming a reality as shipping container apartments pop up around the globe. After witnessing the advantages of building shipping container stadiums and office buildings, apartments seem like a logical next step for container construction, especially with the adoption of AC462 compliant containers.
We've found seven shipping container apartments on Google Streetview that not only succeeded as housing, but also made a mark on their cities. Some container apartments charge rents at premium rates thanks to high end finish outs and the novelty of living in a container, demonstrating that container apartments can be a lucrative venture. Others translate the lower construction costs into low rents to create affordable housing. From Mexico to the Netherlands, all these shipping container apartment complexes are proving to be an economically viable solution for developers and renters alike.
Container Apartments in the United States
Containers on Grand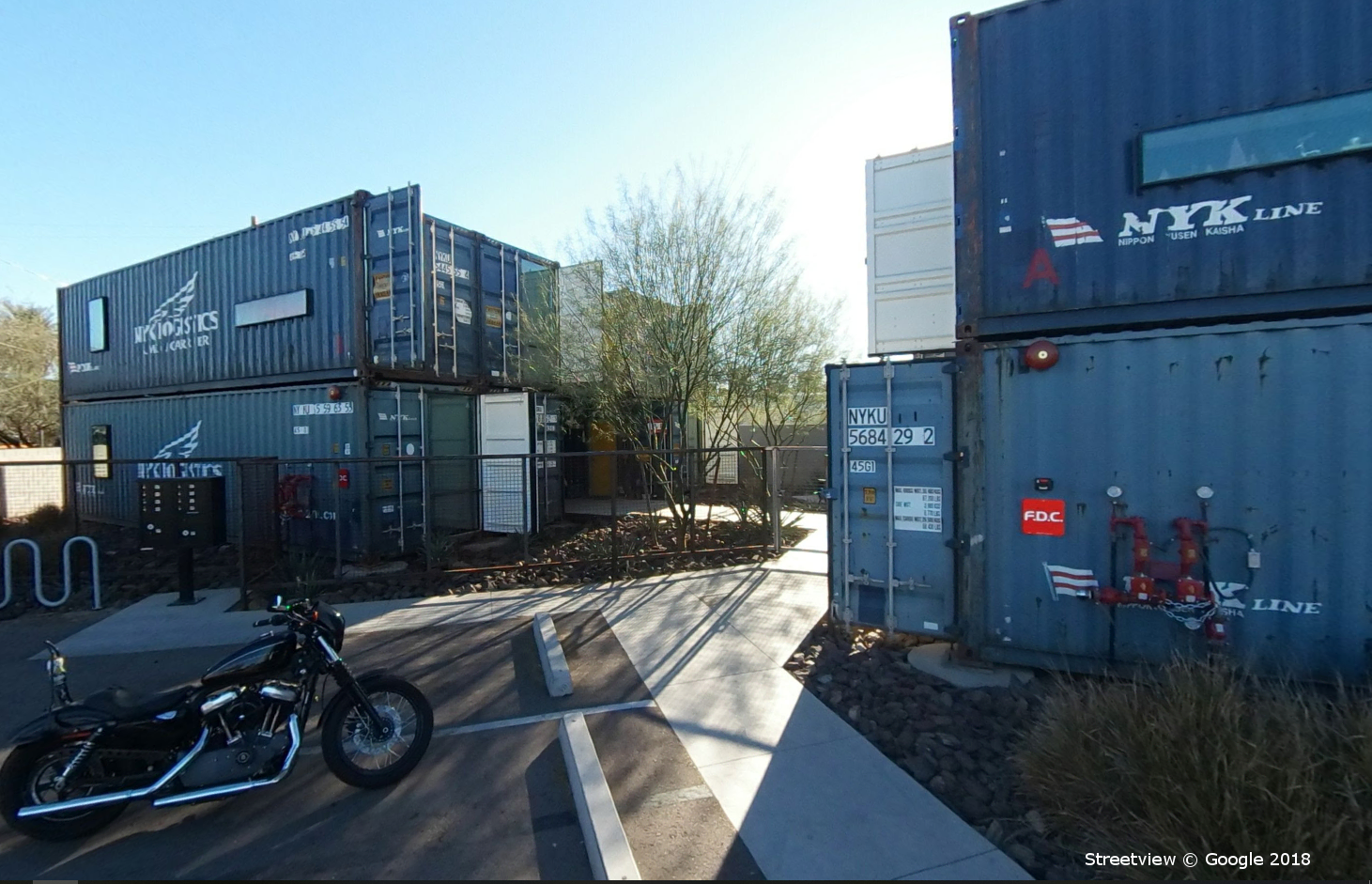 1128 Grand Ave, Phoenix, AZ 85007
Size: Eight units made from 16, 40-foot shipping containers
Website: www.containersongrand.com
Unable to get investors, the developers funded Containers on Grand with private capital. The risk paid off. Before the apartment opened, they had a 200-person wait-list for just eight units. We also like that they kept the original container floors inside the units. One-bedroom units rent for $1200, a rate on par with the Phoenix's upscale complexes.
The Oscar

206 E Portland St, Phoenix, AZ 85004
Size: 13 units made from 32, 40-foot shipping containers
Website: www.theoscarphx.com
After their success with Containers on Grand, StarkJames LLC built a second larger apartment complex in Phoenix. Because Containers on Grand drew so many renters with artistic interests, The Oscar includes two commercial spaces that can be used as studio space. They've just started leasing apartments.
Sea Container Housing in DC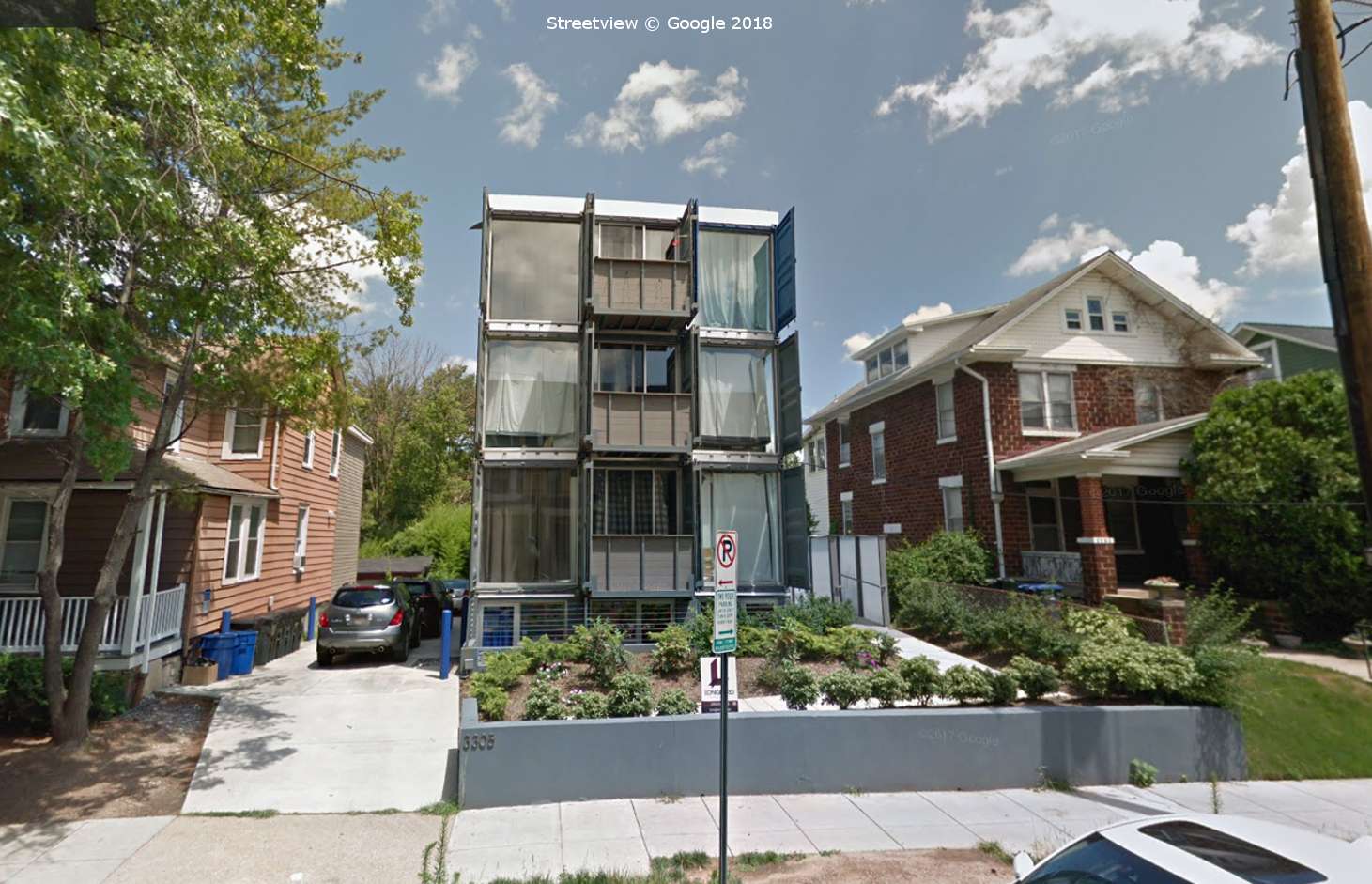 3305 7th St NE, Washington, District of Columbia
Size: 24 beds in 18, 40-foot shipping containers
A landlord had six months to either renovate or rebuild a building before the school year began. They opted to demolish their existing structure and start over with containers. In just six months, the apartment was ready for rentals. While the project started as a fast way to create student housing, the novelty of living in a container now draws rents as high as $6,500 a month.
Potters Lane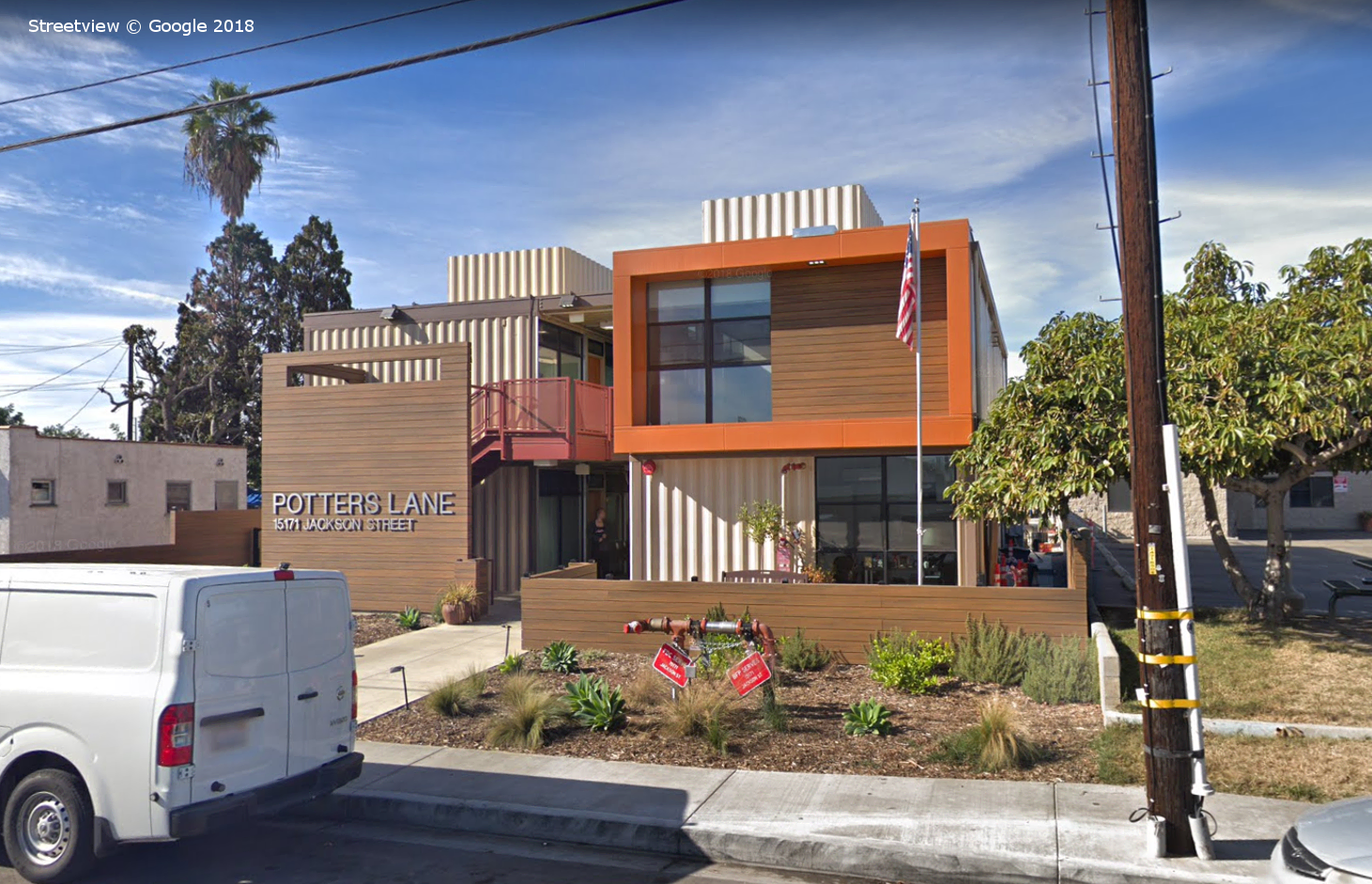 15171 Jackson St, Midway City, CA 92655
Size: 16 units, 480-square-feet each
Potters Lane was built to provide affordable housing for veterans. In addition to its excellent curb appeal, Potters Lane offers a beautiful courtyard, designed to encourage social time and relationship building. Construction took just six months!
Container Apartment in Mexico
La Aduana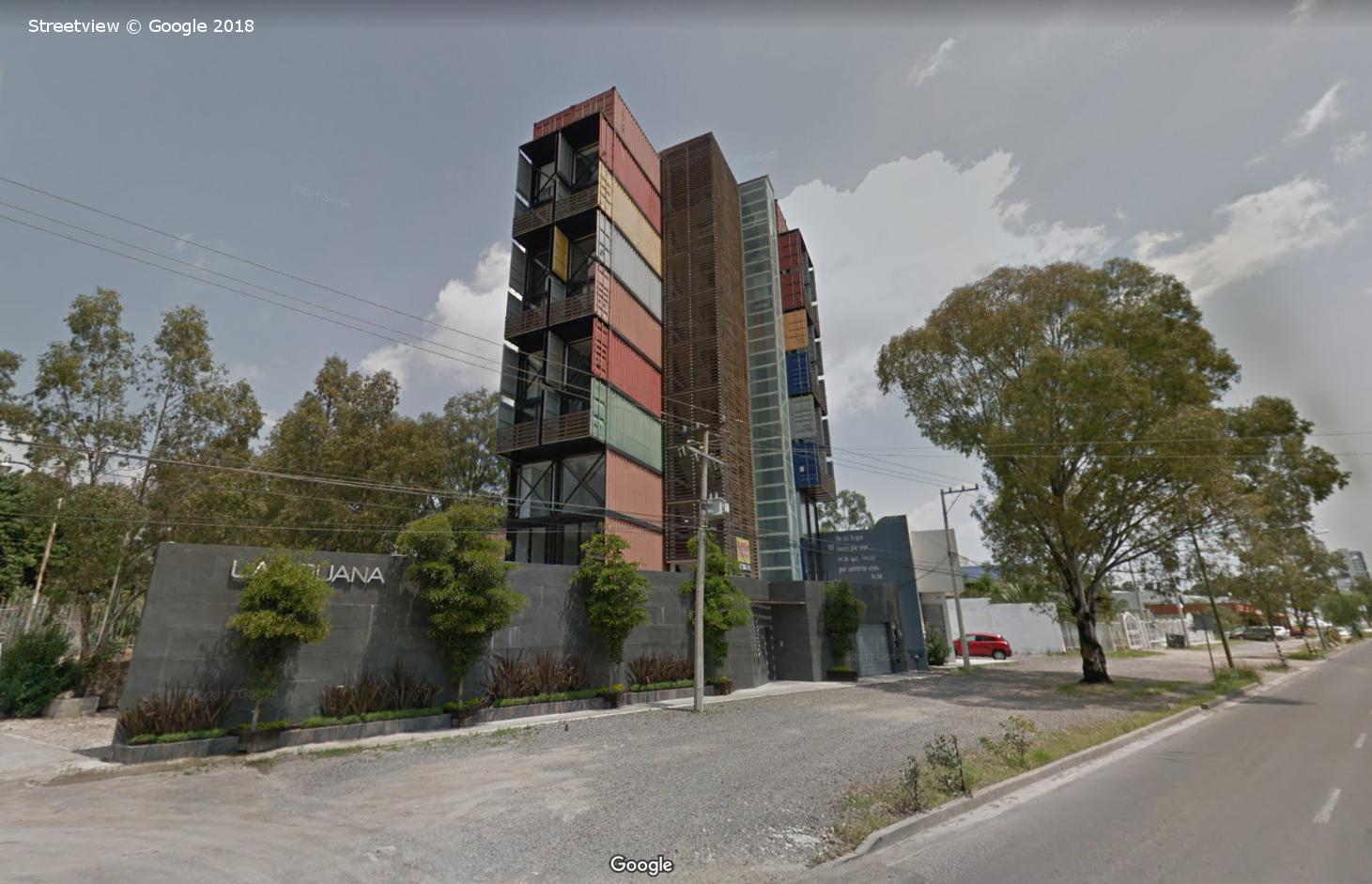 2892 Paseo de los Insurgentes, Leon, Mexico
Size: Eight units made from 36, 40-foot shipping containers
Stacking the containers eight stories high was an efficient way for developers to make the most of 2,300 square feet of land. Be sure to "walk around" the building in google streetview to see how the texture of the natural materials softens the steel exterior of the containers.
Container Apartment in Netherlands
Keetwonen
1458 H.J.E. Wenckebachweg, Amsterdam, North Holland
Size: 1000 units, each made from a 40-foot shipping container
The City of Amsterdam has a chronic shortage of student housing. For example, in 2004 The University of Amsterdam had to wait-list 6,000 students for housing. To quickly and cost-effectively relieve the housing shortage, Tempohousing created a thousand living units in a shipping container apartment complex called Keetwonen.
All one thousand containers were assembled in just nine months. However, be sure to tour Keetwonen before it's gone! The land beneath the apartments was only licensed for student housing for five years. Now that the city plans to redevelop the area, Tempohousing is disassembling and reselling the units throughout the Netherlands.
Container Apartment in France
Cité A Docks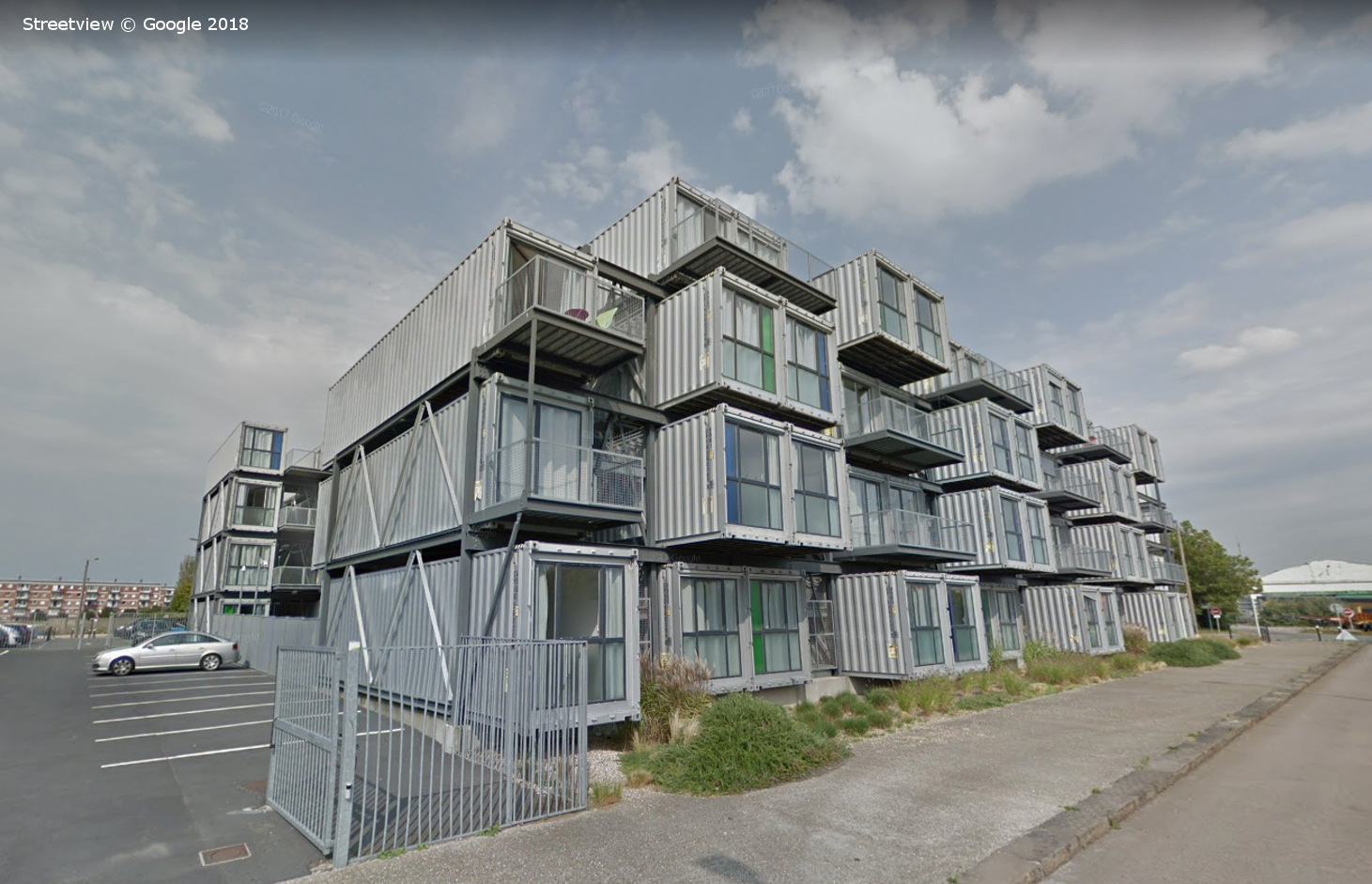 51 Quai de la Saône, Le Havre, France
Size: 100 units, each unit is 258 square-feet.
Like Keetwonen, Cité A Docks was built as student housing. The architects chose to put the containers on a steel frame with racks to create more open space between the units. Because the racking system takes on most of the weight load, the architects also more flexibility to add large windows that could otherwise compromise the structural integrity of container structure. The floor to ceiling windows, coupled with a light color scheme had the added benefit of preventing students from feeling "boxed in."
If you'd like to learn more about shipping container buildings check out these other resources:
Have questions about building with shipping containers? Give us a call at 877-704-0177 or email sales@falconstructures.com.