Construction Storage Containers and On-Site Offices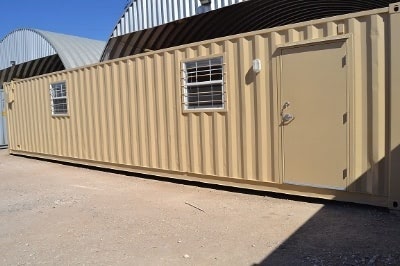 Why settle for anything less than what your construction team needs to work efficiently? Falcon provides a proper place to conduct business, securely stage and store materials or even a place to work in climate-controlled comfort. Because the jobsite is constantly changing, the mobility of a storage container provides the flexibility to move them when needed - helping your team complete the job on-time and on-budget. Falcon even provides combination storage and workspace containers.
Construction Offices:
Portable buildings frequently serve as construction site offices or workshops on job sites. Having an office on-site is a time-saving and cost-effective solution.
Construction sites need more than just storage; they need convenient and efficient workspace on-site, too.
Offices built in custom finished conex boxes are perfect for on-site meetings, storing construction plans and office supplies, and keeping workers dry in inclement weather.
Buildings with electrical, phone, computer outlets, and other equipment provide the essentials of doing business in today's world of construction.
Construction Storage:
Construction contractors use storage containers, sometimes called connex boxes, at worksites as a place for storing equipment and materials. Our boxes are ideal due to their security and ability to keep the contents safe from the weather.
Containers are used for staging plumbing materials and electrical fixtures as well as glass, carpet, and other supplies.

Containers are also ideal for housing generators, welding equipment, and other tools, materials, and supplies.