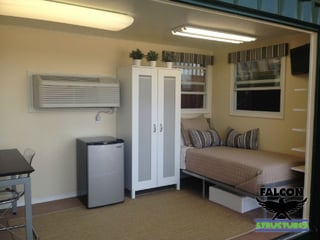 To maximize efficiency on remote job sites or during a natural disaster, temporary workforce housing is a must. Compared to traditional workforce living solutions, modified shipping containers offer a number of cost, comfort, and convenience benefits, including:
Suitable for just about any workforce living space application.
At Falcon Structures, we've modified thousands of shipping containers over the years. We've also created workforce housing and shipping container work camp solutions for a wide variety of clients. Our container living units and camps are ideal for:
Oilfield housing and work camps.
Construction site housing.
Border patrol housing.
Emergency management and disaster relief housing and medical facilities.
Virtually any remote living situation.
Work camp container living spaces aren't limited to sleeping quarters either and are a great complement to a living container. Containers can be modified to function as:
Locker rooms.
Recreation facilities.
Laundry facilities.
Dining halls/cafeterias.
Mobile offices, training and meeting spaces.
Temporary holding facilities.
Infirmaries and more.
Durable with minimal maintenance required.
Constructed of sturdy, corrugated, Corten steel, shipping containers are built to last. Plus, with an average life expectancy of 25 years, you can expect our living containers to outlast traditional modular living units.
We also focus on durability and easy maintenance when designing the interiors of our workforce housing units. You'll find quality fixtures and finishes inside of our container living spaces.

Portable and stackable.
Shipping containers were originally designed for easy transport via ship, train, truck, or plane. When your jobsite moves, your worksite living containers easily move with you.
Stackability is another inherent advantage of containers over traditional modular buildings. When space is tight and your workforce is large, we can safely stack containers to create a work camp utilizing a smaller footprint.
Can be modified to suit most any need.
While we can modify a shipping container to address your specific needs, we've really removed the guesswork from container modification. Our standard container housing solutions come equipped with
Plumbing for shower, sink, and toilet.
Climate control (heating and air conditioning).
Insulated walls and ceiling.
Lighting and electrical.
Wiring for telephone.
Heavy-duty and secure windows and personnel doors.
Fast and easy to deploy.
Through years of experience building workforce container living solutions, we've developed an efficient container modification process. This means once we receive your order we can turn it around fast, without sacrificing quality.
Then, when your container housing units arrive onsite, set-up is a breeze. All you need is a flat surface. No foundation, pre-installation prep work, special stairs, ramps, or skirting is required.
In addition, the electrical and plumbing is fast, turnkey, and easy to connect upon arrival.
If you would like to learn how a modified shipping container could simplify your workforce living needs, we're here to help. Contact Falcon Structures at 877-704-0177 to speak with a friendly sales representative today.