If you're designing a shipping container structure, you probably have questions about what's possible and what's cost effective. To help, we made an eBook to introduce you to the scope of options available for ISO container modifications. Here's a sample of what we cover.
Joining Shipping Containers: Tried and True
When we place shipping containers side by side and remove the side wall to join them into a larger room, we call it a clear-span. People looking to create larger shipping container buildings for offices, apartments, training facilities or other large buildings can use clear-spans to add open space.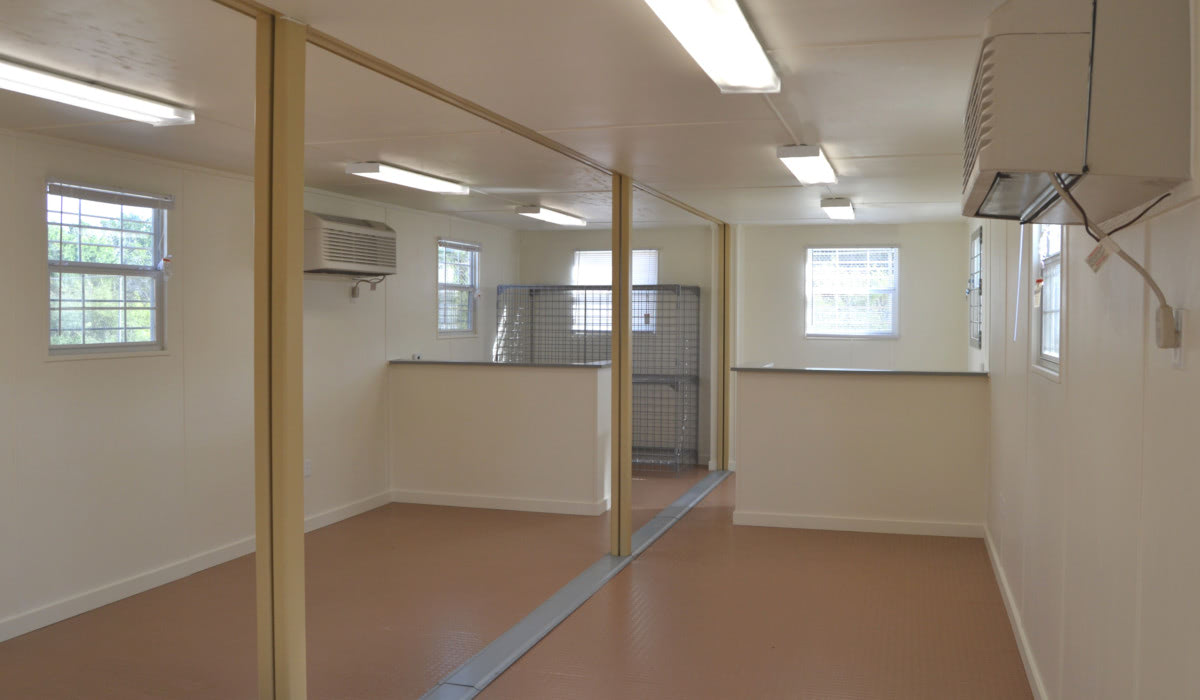 During transport, the containers are shipped as modules (usually one per truck) and then joined together onsite. The end-user can either weld or caulk the seam closed. As you can see in the photo above, clear-spans usually require support columns to maintain structural integrity. You should factor this into your interior design plans.
Replacing a Wall with a Floor to Ceiling Window: Possible with a Few Considerations
Floor to ceiling windows in a shipping container look great. Keep in mind that, just like with clear-span rooms, you will probably need to add support columns. Adding the appropriate reinforcements to create a floor to ceiling window tends to run up the price tag of the shipping container structure. Consult with a container structure manufacturer or structural engineer before you proceed.
Plumbing for Bathrooms and Kitchenettes: Tried and True
We've added plumbing to plenty of shipping containers. There are a few things to consider though. Plumbing lines need slope to keep waste water running downhill. There a few ways to achieve this. You can raise the floor of the container to create space for sloped pipes or you can design a platform for the container to sit on that will connect the container to exterior plumbing lines.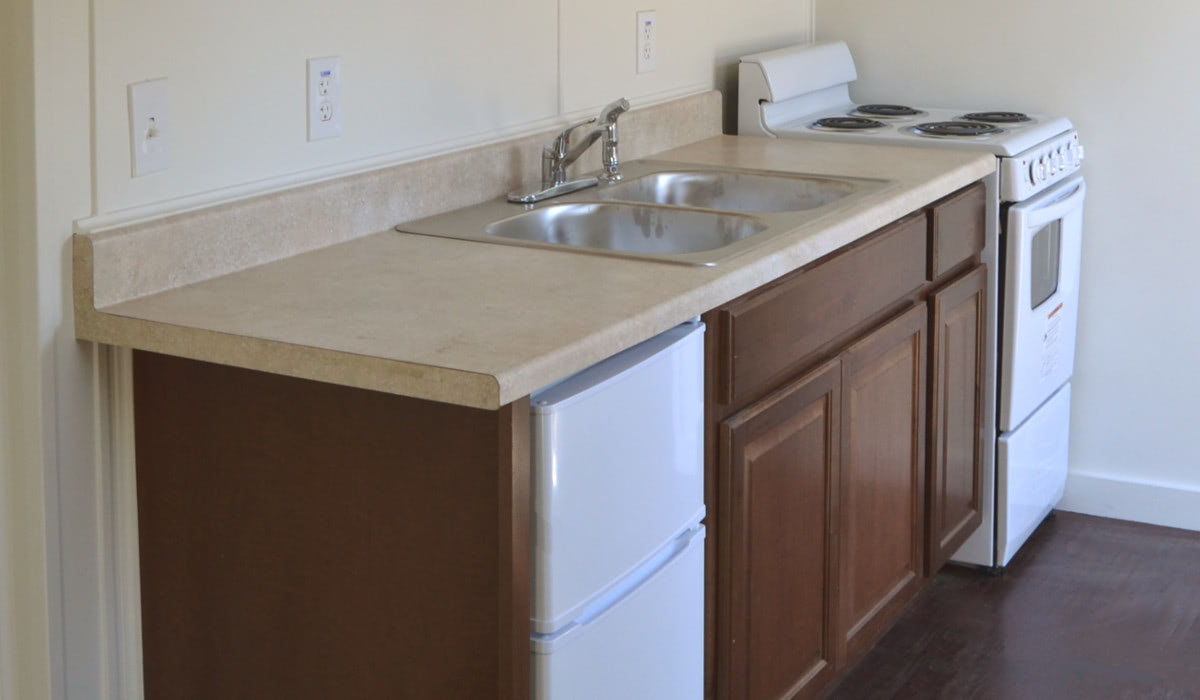 Our mobile containers with bathrooms generally use a raised floor system and a plumbing port similar to what you'd find on trailer or RV. Permanent restroom buildings are more likely to use a platform system.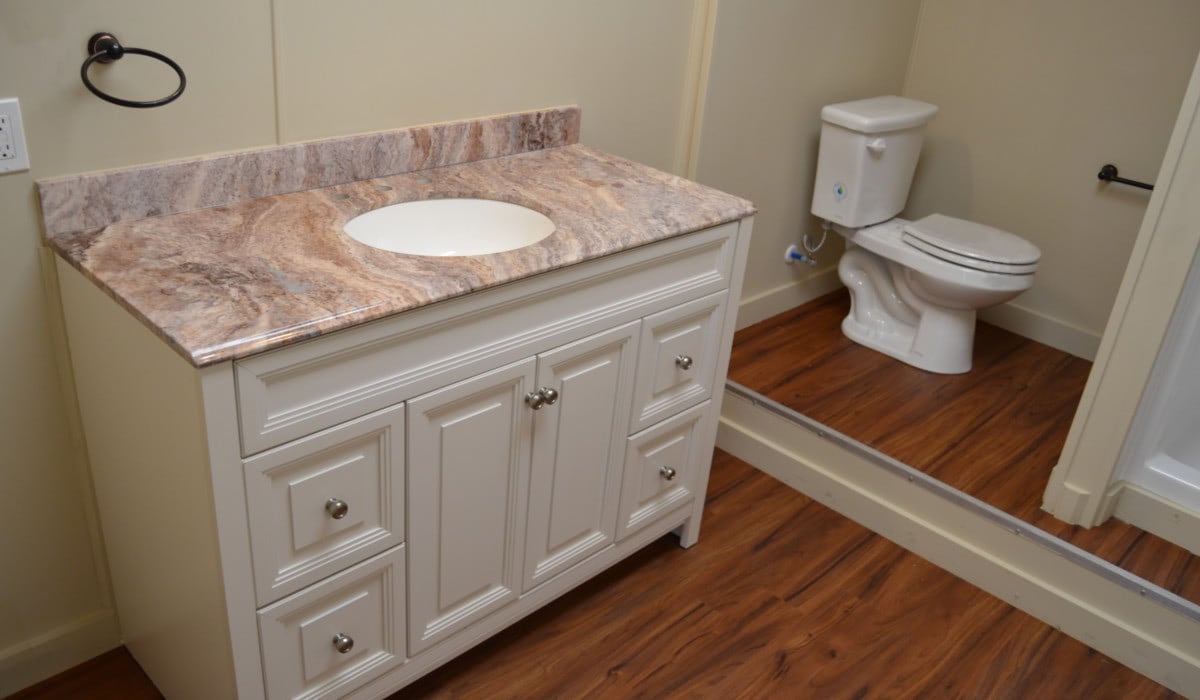 Hardwood Flooring and Carpet: Possible with a Few Considerations
Typically, when a contractor installs hardwood and carpet, they nail or staple it into concrete or wood. The steel framing at the edges of the floor make this challenging. A floating hardwood system or carpet tiles are possible work-arounds. We prefer to use high-end vinyl flooring (see the flooring in the bathroom photo above) because it's easy to install, cost-effective, and durable.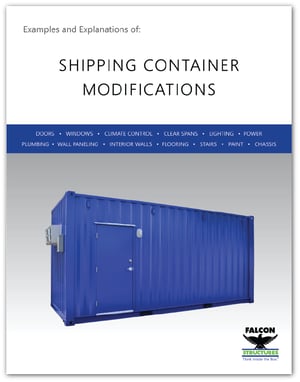 We cover these topics and more in our newest guide, "Examples and Explanation of Shipping Container Modifications." Download our free eBook to explore your options including:
Cutting and framing openings for doors and windows.
Joining shipping containers into wider structures.
Stacking containers into multi-story structures.
Adding climate control to containers.
Outfitting containers with electrical power.
Installing plumbing.
Options for exterior paint.
Installing flooring over the original floors.
Interior framing and wall paneling.
Adding furnishing and other features.
Trailers for frequent relocation.
If you're feeling overwhelmed by all the options, you don't have to reinvent the wheel. Check out our professionally designed and field-tested floorplans.
You can always contact us at 877-704-0177 or sales@falconstructures.com if you have questions.