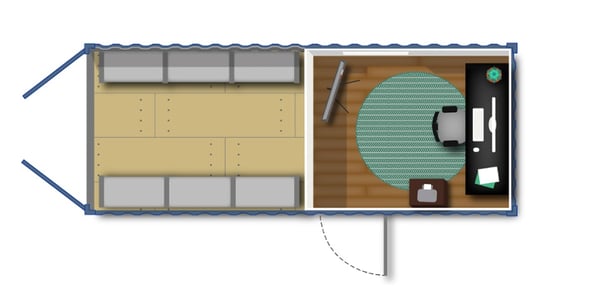 Mobile workspaces fulfill an endless number of functions today. From construction site offices to supplemental workspaces, Falcon Structures offers more mobile office configurations than ever before.
At Falcon, our mobile shipping container office solutions have grown as customer needs have evolved. A few years back, most customers chose either an open office or a combination work and store office floor plan. From there, our design and engineering team would modify the space as needed.
As awareness of shipping container mobile offices has grown, so has the demand for more configurations. Over time, we were building more containers with partitioned, dual offices, and we found a few key configurations provided the most efficient use of space for most cusomer applications.
In recent years, more customers have asked us to include restrooms in their mobile offices. People wanted a "real" bathroom not a porta-potty.
Standardizing Mobile Office Configurations Improves Efficiencies
We ended up building so many variations of work and store, partitioned offices and office-bathroom layouts, that we really got the process down to a science. By standardizing several configurations and how to best construct the restrooms, we improved efficiencies and expanded our standard product line.
Customers benefit from this product standardization in three key ways:
The product is tested, tried and true resulting in a higher level of quality and durability over the long-term.
We can manufacture the standard mobile office configurations faster, which means quicker turnaround time and delivery on customer orders.
Customer feedback is always key to how we refine floor plans, which provides the best overall solutions for most applications.
Today, our four most popular repurposed shipping container office configurations include: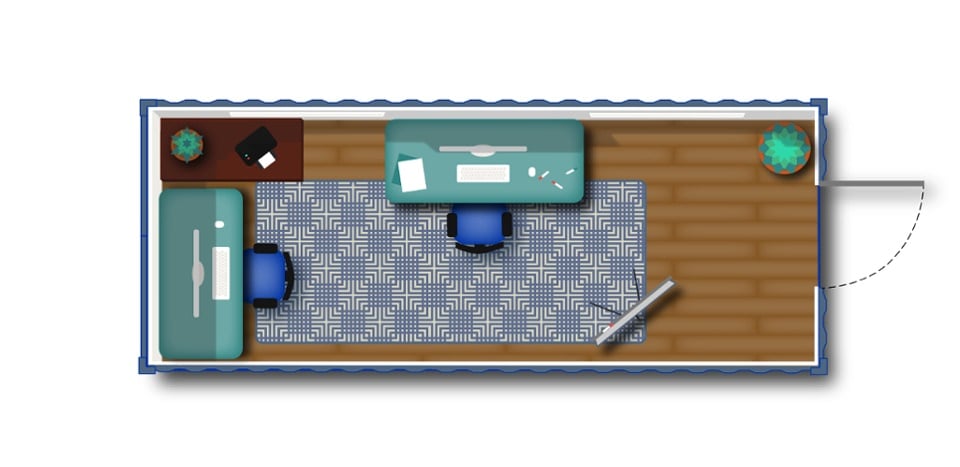 Available in 20-foot. or 40-foot. sizes, all four configurations can be upgraded with the restroom addition (Falcon's "Premium" option).
Repurposed shipping container offices are really plug-and-play, because they're finished out and ready to go. Features may include: Multiple windows; painted, plywood walls; batt insulation; HVAC unit; overhead lighting; sturdy and secure steel doors; electrical outlets; security features; and more.
Plus, when the shipping container office arrives onsite, all you need to do is connect to power – which any qualified electrician can easily do. We also provide a plumbing portal to connect restrooms, should you opt to upgrade.
From Mobile Offices to Conference Rooms, Break Rooms and More
On occasion, the traditional mobile office configuration won't cut it – at least in its original form. When that's the case, mobile container offices can be modified to meet individual client needs.
Some recent examples include:
Supplemental office space. An equipment rental firm needed extra space near its headquarters, so they chose an office with half bath floor plan.
Contractor support office. An engineering services firm needed relocatable

office space on a military site

to provide contractor support.
Mobile employee locker room. A landscaping company, focused on long-term city projects, needed a mobile locker room where employees could change uniforms between shifts. Since the locker room needed to be relocated frequently, a repurposed, steel, shipping container was ideal.
Mobile campus. An equipment rental company needed multiple mobile offices and storage spaces on one site. They chose two 40-foot. containers – one for an office, the other for a breakroom. Plus, additional 10-ft. and 20-foot. containers were used for material storage and to secure generators.
We'll Help You Weigh Your Mobile Office Options
Whether your company needs a traditional mobile office, a combination work and store solution or ideas for a unique application, we can help. Just give us a call at 877-704-0177 to speak with a Falcon Structures representative today.