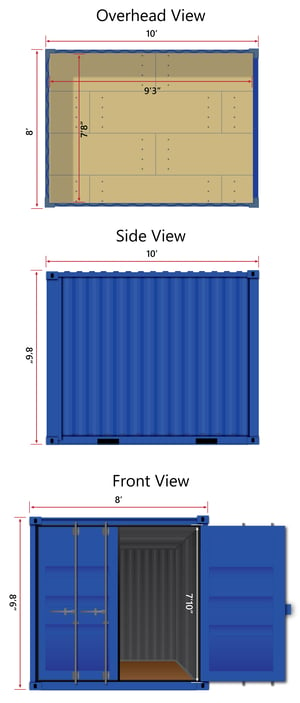 Did you know you don't need to cut a 20-foot container in half to get a 10-foot shipping container? These smaller containers are perfect for storage and security booths when space is limited.
Here's a quick overview of the dimensions.
Exterior Dimensions:
Height: 8 feet, 6 inches (High cube: 9 feet, 6 inches)
Width: 8 feet
Depth: 10 feet
Interior Dimensions:
Height: 7 feet, 10 inches (High cube: 8 feet, 10 inches)
Width: 7 feet, 8 inches
Depth: 9 feet, 3 inches
10-foot Shipping Container Availability
There are significantly fewer 10-foot containers in circulation than 20-foot or 40-foot containers. If you would like to use a 10-foot container, it may take additional time to find one for sale.
Popular Uses for 10-foot Shipping Containers
10-foot shipping containers are a bit snug for offices or living quarters, but they shine when businesses need storage in a portable yet secure unit. They've proven ideal for industrial equipment shelters and mobile machinery storage.
Telecom Shelters
The data for calls, texts, and internet searches travels from cell towers to cabling and switch rooms that form the grid. Tucked beneath each cell tower is equipment for processing and routing this data. Often this equipment is simply fenced in, but sometimes it needs the additional security and weather protection of a Base Transceiver Station (BTS) hut. 10-foot containers preloaded with racks and HVAC are a fast substitute for concrete BTS huts.
RTU Monitoring Units
There are currently 317 10-foot shipping containers holding oil pipeline monitoring equipment units called remote terminal units (RTUs). Instead of constructing an instrument building from cinder blocks for each unit, energy companies can drop off and plug in a 10-foot shipping container equipment enclosure in hours. Containerized RTUs also already have equipment installed and tested, saving technicians time in the field.
Dock Level Storage for Warehouses
Warehouse managers must be thoughtful about how they use square footage. A 10-foot container can sit on a warehouse dock with no site prep while only taking up 80 square-feet of space. Roll-up doors can be installed on any wall of the container.
Ticket or Security Booth
10-foot shipping containers with a roll-up window become a fast deploying booth for security check points, park entrances, and truck scale stations.
To learn more about the types of containers you can modify for storage and work space, check out:
If you have questions, give us a call at 877-704-0177.