Shipping container structures are created from Conex boxes that have been used to transport goods across the ocean. Some have even spent many years in transit all over the world. When ship liners sell excess boxes, they base quality on shipping standards, which are different than standards at Falcon. Therefore, it's very important for each container to receive an inspection by an industry expert before its transformation into your storage, office or living environment.
Rest assured, we inspect each and every container that arrives at Falcon. Because we modify such a large quantity of containers, it is very important to have high quality stock and to catch any potential issues before the container is accepted into inventory. Here are 5 things we look for before we create your next shipping container space.
1. Dents and Dings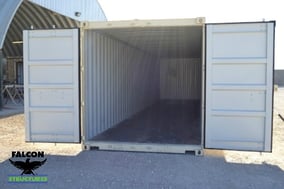 Because all shipping containers have been used to ship cargo at least once, most have a few dents and dings. Most of these boxes are still completely functional and some customers prefer them due to budgetary requirements.
First, we evaluate if any dents impact the structural integrity of the box itself. Second we note if these dents penetrate the wall or frame of the container. We also check to see if any are a result of repairs made at a port over the life of the container and if so, the quality of the repair work. Finally, if the container is going to be modified, we assess the impact of any dents and dings on the design. Often, dents and dings are purely aesthetic. However, there are some boxes that don't meet the Falcon standards.
2. Rust
Containers are made from a material known as "weathering" steel. This material is designed to rust on the outside to form a protective barrier. While the rust helps protect the container, some customers prefer a newer look. Falcon has a process to remove surface rust and paint the containers with industrial-grade paint, restoring them to a fresh appearance.
For most living or working applications, our customers usually prefer their containers painted. We can paint it Falcon's standard tan or grey, but you also have many additional color options to match your personal preference or company's brand colors.
However, if you don't plan to paint your conex box, it's important to understand what impact the visual nature of the container will have. If the container has been used only once, they are often tan or white with no freight company branding. While containers used multiple times can be any number of colors with text or stickers on the exterior. It's up to you to determine what's right for the application. Falcon maintains an inventory of inspected containers so you have the option of selecting the one that best meets your aesthetic needs
3. Wind and Water
One of the great benefits of using a shipping container for your functional space, is that it is wind and water resistant – allowing you to safely store valuable items, or even work or live inside the container without risk of water entering the space.
We inspect the box for any deep rust spots, punctures, or other areas which may allow water to penetrate. This immediately alerts us to either discard the container or repair it to a water-tight condition.
4. Doors and Latch Gear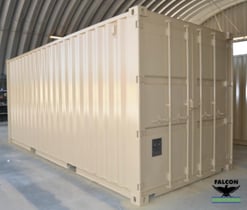 If your project requires that the cargo doors be operable – in some cases the cargo doors are permanently welded shut – we look closely for damage to the doors themselves along with any damage to the latch gear. The latch gear is the cam and lock system that runs vertically along the doors to keep them securely closed – important to the security of the container itself.
The cargo doors also have a rubber gasket which seals them when closed. This is one of the earliest points of failure on older containers. Falcon inspects this seal to ensure it is still in proper working order.
5. Roof and Floors
The container's roof is constructed of the same Corten steel as the container walls and has a very slight bow so that water rolls off. Any dents or dips could collect water and eventually create rust – over enough time, possibly rusting through the roof of the container.
The floor should be free of disrepair and any rotting areas. For some applications additional flooring such as vinyl or epoxy overlay can add visual appeal as well as additional durability to the container floor – especially for high traffic containers such as living or working spaces.
As with anything you may be able to buy on the internet, use caution when purchasing a container which has not been inspected by someone knowledgeable. Often you'll only be shown "an example" of what you'll receive. If you buy sight unseen and are unhappy with your container, you'll be responsible for shipping costs to return it - if return is even an option. Simply because a container is marked "cargo worthy" for carrying goods on an ocean liner, it still may not fit your needs.
While there are many things to consider before beginning your shipping container project, we understand that the quality and security of the space is of utmost importance. Falcon inspects each and every container that arrives before we place it in our inventory and you're also more than welcome to come by to have a look for yourself.
If you would like to learn more about why shipping containers are a great choice for functional space,
we're here to help. Contact Falcon Structures at 877-704-0177 to speak with a knowledgeable sales representative today.