While shipping container structures are most renowned for their affordability, mobility and security, if designed correctly, they also provide extremely convenient access to storage, working and living spaces. The shipping container doors play a large role in the functionality of your shipping container space. Let's start with four quick questions to help determine what type of door, or doors, you'll need on your container.
What will you be using the container for?
How often do you need to get into the container?
Will you be storing oversized items inside the container?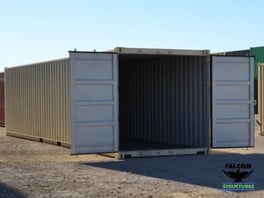 Cargo Doors
Cargo Doors are the heavy-duty, weather-tight, secure swinging doors located at the end of the container. They use a cam and lock system to ensure that the contents are protected against theft and environmental threats. When completely open, cargo doors allow large items to be placed inside easily – even by forklift.
Sometimes, these doors are all that's necessary for users to access their items. However, there are options such as personnel and roll-up doors that may make accessing your items more convenient than opening the cargo doors each and every time, and are far more convenient when the container is used for working or living.

Personnel Door
Personnel doors are made of steel and welded into the wall of the container. This type of door is easy to operate, making them a great choice for portable office buildings, living spaces and even storage spaces. Personnel doors allow you to easily walk in and out of your container but at the same time, they're quite secure. They come with a deadbolt and steel lever handle. Incorporating a personnel door won't compromise the security of your portable buildings, keeping important papers and valuable items safe.

Personnel doors are carefully installed to ensure that the container remains wind and water-resistant. The insulated core works to keep containers cool in the summer and warm in the winter.
If controlled access is of particular importance, personnel doors can even be equipped with a keypad entry.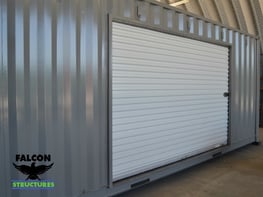 Roll-up Door
Roll-up doors, sometimes called overhead doors, are useful if you store large equipment in your shipping container. Roll-up doors differ from cargo doors in that they lift up from the bottom and roll-up inside the container. They are lockable, easily unlatched and lightweight. These doors are also welded into the container wall and can be placed anywhere on the walls or end. This eliminates the hassle of opening the cargo doors when you need to access the contents frequently.
Falcon Roll-up doors incorporate a special rain pan to keep rain water out. Roll-up doors come in a variety of widths and styles including those that are extreme-duty and wind-rated for special needs or environments.
Door Combinations
For larger containers, especially those that use a combination of storage and working or living space, you may consider a combination of entryways. Extra doors are one of the most popular modification options for shipping containers.

The design of any shipping container building should fit your specific needs. Whether you need to make it more convenient to enter the building or easier to move items in and out of the building, there is a door that can help.
Contact Falcon Structures at 877-704-0177 to speak with a knowledgeable sales representative today.