Repurposed shipping containers have evolved from sturdy boxes that safely ship goods across the globe to innovative modular building elements. You may have heard mention of containers as an alternative to traditional modular buildings but were unsure of their viability for your business.
Containers as building elements provide a superior alternative to traditional modular structures, because they are: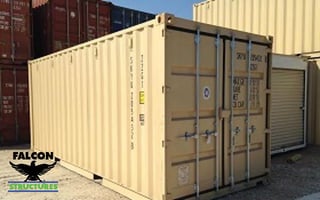 Secure.
Constructed of heavy-duty, 16-gauge steel, shipping containers are incredibly difficult to break into. There is no other functional space in the market that is as secure as a shipping container.
Durable.
Shipping containers, sometimes called conex containers, last about 25 years on average, and afterwards, they still hold a 75 percent salvage value. What other capital asset do you own that will be around and functional 25 years from now? In addition, maintenance costs are extremely low.
Weather and rodent resistant.
ISO storage containers were designed to protect valuable goods and materials from shore to shore, under extreme weather conditions. If you need a sturdy structure that will stand up to the elements and keeps rodents out, container structures deliver. Shipping containers can handle both hot Texas summers and icy North Dakotan winters.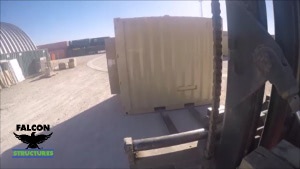 Logistically ideal.
Thanks to a "built-in" global infrastructure, shipping containers offer a natural logistic advantage to consumers. They are easily relocated via ship, train, truck, or airplane. Containers manufacturers also included logistics handling points in the container design, so these sturdy structures are easy to lift, move, and stack.
Stackable.
Containers were engineered to be stacked nine high – even when packed to a fully loaded weight of 67,000 pounds. If you do the math, you'll find that the frame of the bottom container in a 9-high stack reliably supports 500,000 pounds. This adds up to a safe and effective solution for a tight footprint, especially when space is scarce.
Built for speed.
Speed is a common theme in the modular construction industry, and sturdy, steel shipping containers offer many unique advantages over traditional modular structures. These include:
Smaller, temporary structures that don't require permanence.
Quick set-up, with no need for special stairs, ramps, or skirting, because they are situated at ground level.
Turnkey electrical and plumbing that is fast and easy to connect onsite.
Built-in foundations, so no onsite pre-installation prep work is required.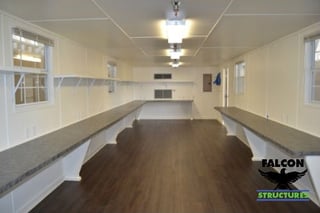 Customizable.
At Falcon Structures, we've developed a wide range of standard configurations in our product line-up. So you may just find a turnkey solution that fits your needs. Today, some common features include:
HVAC systems.
Personnel doors and windows.
Workstations.
Living spaces.
Split office and storage spaces and more.
However, many clients come to us with unique applications that require anything from minor modification to complete customization. Our engineering and design team can accommodate just about any need.
For some fascinating facts about shipping containers, be sure to read our infographic. Don't let the boxy shape fool you! Shipping containers lead complex lives traveling the globe. Our infographic illustrates the versatility of ISO shipping containers, popular uses and modifications for containers, as well as the nuts and bolts of key container features.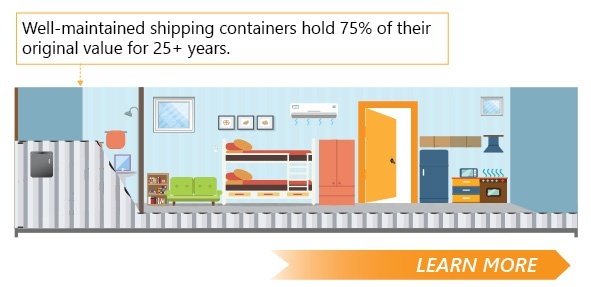 We'd be happy to answer any questions you have while deciding to purchase a shipping container structure. To speak with one of our friendly Falcon representatives, give us a call at 877-704-0177 today.