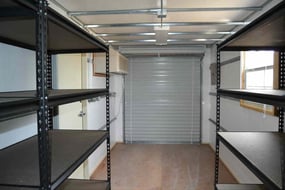 All around the world, modified shipping containers are enjoying a wave of positive press. If you're curious about how these containers are being used or wondering if your unique business challenge could be solved by using a conex container, you're in the right place. And while the applications for shipping containers seem endless, most fall into four top usage categories: storage, workspace, living space and industrial applications.
#1 Storage
An economical workhorse, the ISO container provides a flexible, durable storage solution suitable for almost any environment. Engineered to safely transport items overseas, shipping containers are built to last and endure harsh weather conditions.
Because they require no special foundation, can be easily moved from site to site and can be climate controlled, they're great for any storage application big and small. Secure, double, ground level cargo doors even allow for easy access to large equipment, or consider a personnel door for quick access to smaller items. Use a storage container:
At remote locations – professional, industrial or leisure.
Close to a home, school or business.
Secure storage area in a warehouse.
For recreational and sporting activities.
Near healthcare facilities.
On an industrial or construction job site.
To support agriculture and livestock needs.
During an emergency or disaster relief.
#2 Workspace
Long lasting and turnkey, repurposed shipping containers deliver a flexible, mobile office solution you can rely on for years. Climate controlled, modular offices are constructed of sturdy, galvanized steel and include office grade finishes. Mobile workspaces fulfill an endless number of functions today.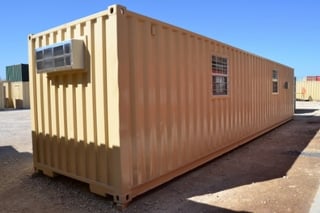 Traditional or supplemental office space.
Private meeting space or conference room.
Add instant office space inside a warehouse.
Dual office setup with half bath.
Combination office and climate-controlled storage.
Employee locker room, break room or restroom.
Mobile I.T. office.
Nurse's office or infirmary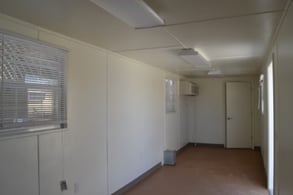 #3 Living
Temporary workforce housing is a must on remote jobsites or during a natural disaster. Compared to traditional workforce living solutions, modified shipping containers offer a number of cost, comfort, and convenience benefits. With an average life expectancy of 25 years, you can expect most living containers to outlast traditional modular living units. A few living applications include:
Oilfield housing and work camps.
Construction site housing.
Border patrol housing.
Emergency or disaster relief housing.
Virtually any remote living situation.
#4 Industrial Enclosures
Whether your industrial operation is located in a plant, on an oil field, construction site, or adjacent to miles of pipeline, protecting valuable equipment from the elements and vandalism is a must. What may surprise you is repurposed shipping containers offer a superior alternative to many traditional industrial equipment enclosures. Equipment can be installed and tested in your factory and delivered ready to use. For equipment that requires shutting down a plant or line to repair or replace, containerized solutions can simply be replaced with new equipment. Consider using modified shipping containers to create industrial equipment solutions for:
Electrical or automatic control rooms.
Motor control centers (MCCs).
Air compressors.
Chemical processing equipment.
Generators, battery storage and monitoring, and more.
While the uses are many – in fact there are 83 suggested uses here – the fact that shipping containers are the best mobile, secure and durable solution for most applications means the shipping container structure is here to stay.
If you're looking for a secure, long-lasting solution for any number of applications, repurposed shipping containers fit the bill. To learn more about container modification options for your unique needs, call
877-704-0177 to speak with a Falcon representative.