Falcon Containers Makes Inc. 5000 List for
4th Consecutive Year
Repurposed Shipping Container provider listed as 3018th Fastest Growing Company
Austin, TX (September 5, 2012) -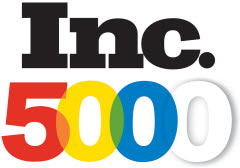 Falcon Containers, an Austin, Texas based provider of repurposed shipping containers, earned recognition as one of the fastest growing private companies in the United States for the fourth consecutive year by Inc. Magazine.
"In the last four years Falcon Containers has expanded our product line, increased our staff, gained numerous new client projects in both the industrial and military segment and this most recent Inc. 5000 award is a testament to all the growth and hard work put forth by all," said Stephen Shang, Falcon Containers CEO.
This exclusive ranking list by Inc. magazine represents a comprehensive look at America's entrepreneurs defined by Inc. 500/5000 selection methodology. To qualify the company must be a US based, privately held, for profit and an independent company -not subsidiaries or divisions of other companies as of December 31, 2011.
Falcon Containers also received Trophy recognition within the Logistics and Transportation category with an 83rd placement as well as 64th in Austin, Texas based companies. The 73% revenue growth combined with the increase in staff propelled Falcon Containers to a 4th consecutive placement in this list of the best and the brightest of entrepreneurial companies.
About Falcon Containers
Founded in 2003, Falcon Containers repurposes shipping containers to simplify their customers' operations. Applications include portable storage containers, military training assets, customized conex containers, and living containers for industrial and man camp living solutions. Falcon has served numerous customers in the Central Texas area and the US Department of Defense throughout the United States. More information can be found at http://www.FalconContainers.com.