Falcon Makes the Front Page of the Austin Business Journal
Former tech execs want to tap building trend in Austin
Premium content from Austin Business Journal - by Cody Lyon , ABJ Staff
Date: Friday, May 13, 2011, 5:00am CDT
If Stephen Shang gets his way, his company will soon do for office and retail tenants what trailers have done for restaurateurs — provide a refreshingly hip and somewhat portable take on workplaces.
Falcon Containers recently moved from a two-acre site to 51 acres in Far East Austin. There, on the site it calls Area 51, the company is building a 2,500-square-foot headquarters made from eight of the 40-foot metal boxes it supplies to its customers. It gives the company's 15 employees a place to work, and it gives the region its first close-up look at a trend emerging around the world.... [more below]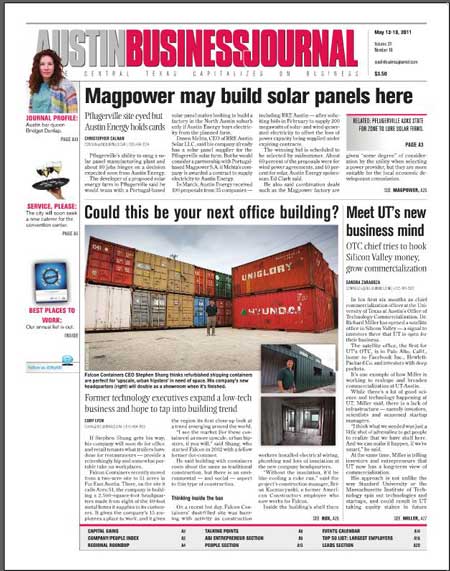 To download the article in pdf format, click here.
To go to the Austin Business Journal site, click here. [Note, you'll need a subscription to their premium content to access the full article on the ABJ site]
To view the press release, click here.