Mobile Security Booths and Ticket Booths
Conex Container Booths Give Employees Comfort and Security

Give employees comfort and security as they handle ticket sales and secure check-ins. With heavy-duty personnel doors, roll-up windows, and climate control, converted conex containers are comfortable in all seasons and have the added advantage of easy placement and transport.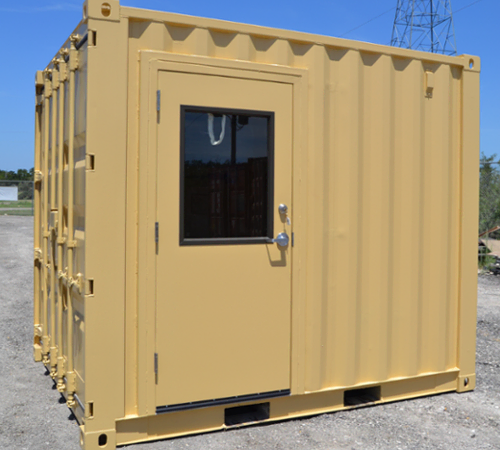 We'll Add Roll-up Windows and Personnel Doors to Your Specs.
Need roll-up windows? Or how about desk space for a cash register? We'll add that for you alongside other interior finish-out options like HVAC systems, interior walls, and floors. Tell us what you're looking for, and our team will design it.
Ordering a Conex Booth is Just Easier.
Between finding a contractor, coordinating with that contractor, and preparing the site, building a brick and mortar booth will take hours of your time. Working with Falcon is faster and easier. Once you finalize your design with Falcon's design team, we'll handle the building and finish out, and then deliver the booth to your site. If you're placing the booth on a flat and level surface like a parking lot or even a lawn you can skip pouring a concrete pad. Once you clear the space, no site prep is needed.
10, 20, and 40-foot Booths Fit Your Job.
Whether you need a 10-foot booth for one security guard checking IDs, or a 40-foot booth with multiple stations and turnstiles, containers fit the job.
Divide 20-foot and 40-foot containers into sections with discreet functions. For instance, you can transform one side into a box office, and the other into a concession stand.
Shipping container ticket booths and security booths are perfect for:
Box offices at carnivals and traveling shows.
Scale Houses at truck weigh stations.
Visitor booths at park entrances.
Parking garage offices.
Security check points.