Shipping Container-Based Emergency Response Training Structure Wins a First Place MBI Award of Distinction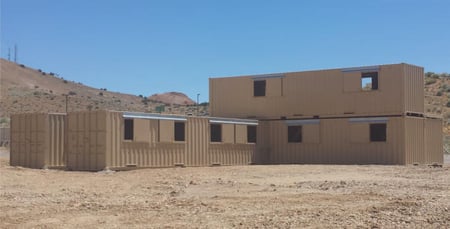 AUSTIN, TEXAS – March 29, 2018 – On March 25, at the World of Modular Conference, the Modular Building Institute (MBI) awarded Falcon Structures first place in the Permanent Special Application category of the MBI Awards of Distinction for designing and manufacturing the Washoe County Sheriffs Office's Emergency Response Training Structure. The shipping container-based structure creates a dynamic and realistic environment for paramedics, fire-fighters, and law enforcement officers to practice responding to emergencies they may encounter in the field.
"Anyone who risks their lives for public safety deserves excellent training. We're grateful that the MBI is recognizing a project we're so proud of." said Stephen Shang, CEO and co-founder of Falcon Structures.
The training structure is made from eight 40-foot long shipping containers modified to emulate urban structures. Five of the containers are arranged into a long hallway with multiple rooms to simulate a hotel, office or apartment. The remaining three are stacked into a two-story structure with a balcony. Sliding black-out windows, pivoting walls, and breach doors inside the containers allow the sheriff's department to rearrange rooms and create diverse training scenarios.
Shang believes the MBI awarded the structure first place in the special application category because in addition to demonstrating modular building advantages like speed and cost-efficiency, the rearrangeable modules and scalability are exceptionally beneficial in training applications.
Whenever they would like to add to the structure, the Sheriff's Office can order more containers and arrange them as desired. As the Sheriff's Office scales the facility over the course of several budget periods, it can also develop novel training scenarios for trainees.
Durability and price were also key considerations for the Sheriff's Office. While comparable stick-built structures can cost millions of dollars and take years to complete, the container-based training structure cost a fraction of the typical price and was installed in less than a week once the modules arrived on-site.
"It's a great example of how modular building can serve the public sector while saving tax-payer money. Container-based construction just makes sense," said Shang.
Shang also took home the Volunteer or the Year Award, recognizing the significant time commitment he has made to furthering the interests of the modular building industry, and first place in the Permanent Modular: Institutional or Assembly category for Fortress Obetz, the largest container structure in the United States to date.
About Falcon Structures
Founded in 2003, Falcon Structures manufacturers safe and secure shipping container-based structures and living, working and storage spaces. Examples include military training facilities, workforce housing units, jobsite offices, equipment enclosures and more. Falcon's growing client base includes major energy corporations, defense contractors, construction firms and the US Department of Defense.
Media Contact:
Krista Short
Director of Marketing
Falcon Structures
512-231-9603
kshort@falconstructures.com
www.FalconStructures.com